The Poquoson Yacht Club Christmas Party
Please click here to see nearly 150 excellent photos by Ed Hartmann and Randy Pine and Randy Pine
Click on arrow above to see video.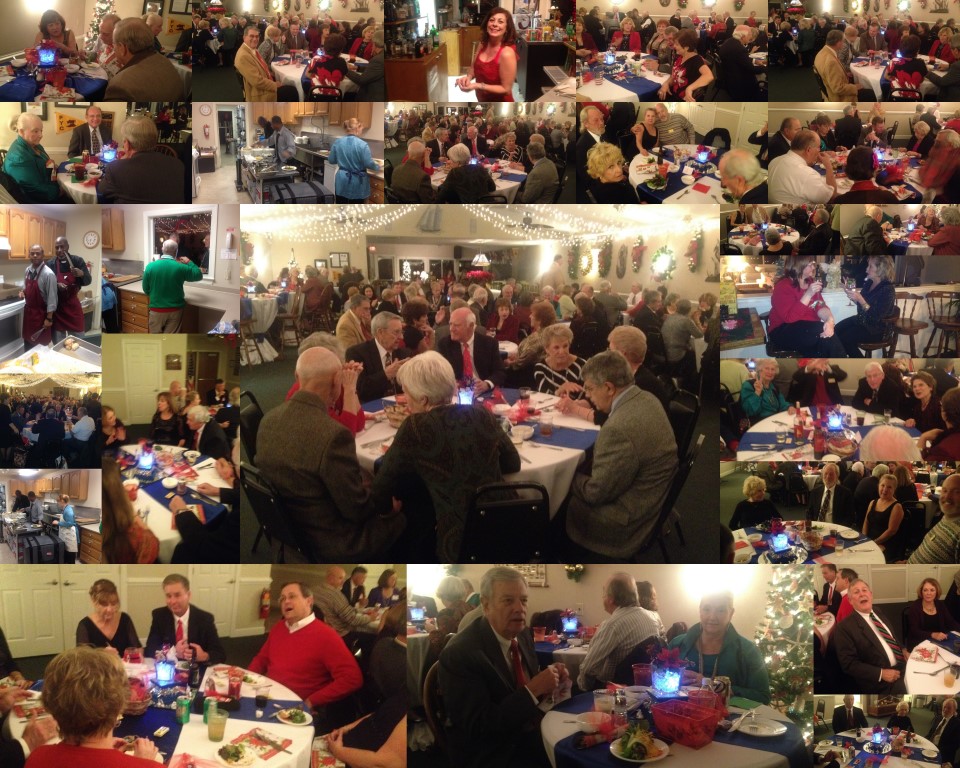 It was a full house!  111 Members and guest celebrated the season in spectacular style.  The committee did an outstanding job!  Thanks to: Randy Pine , Joy Rezek, Sally Stephens, Sharon Stephens, Henri Granger, Sis Ambrose, Debbie Schneider, Valerie Morgan, Madonna Kreiger, Linda Hartmann (Chairman), and many of their spouses.
Linda Hartmann made collectible ornaments to wrap each place setting. (photo coming)
We want to thank our bartender, Kim Cole,  and the chefs, Frank Coffey and Shawn Rodgers for exceptionally good service and food preparation.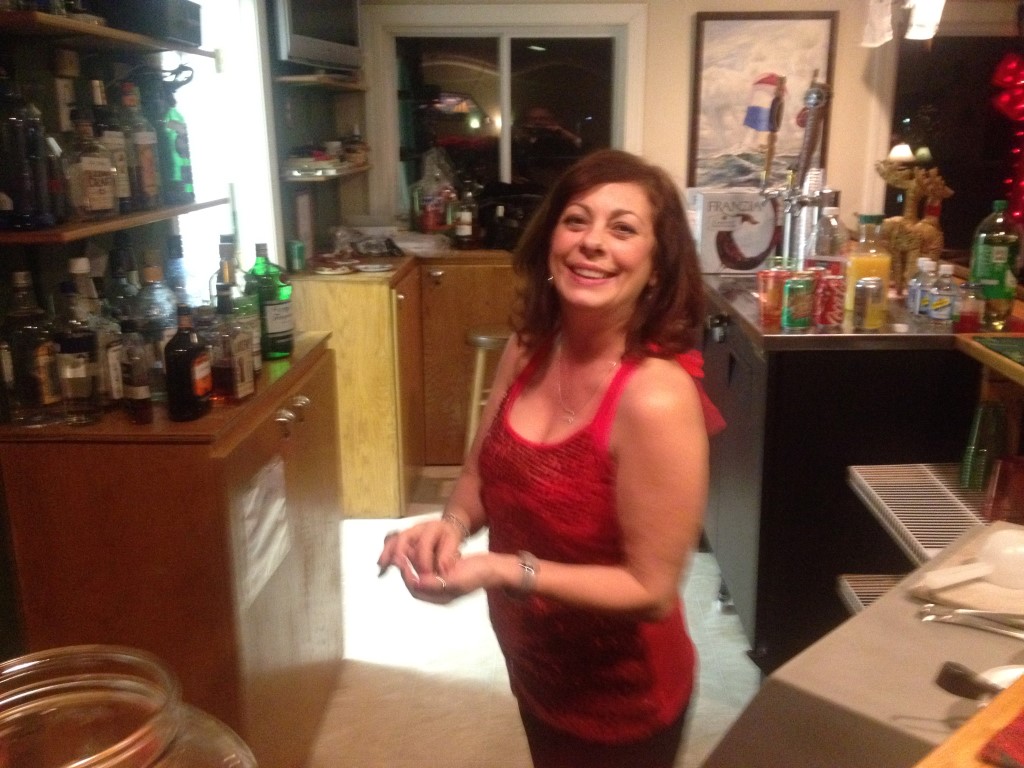 Kim Cole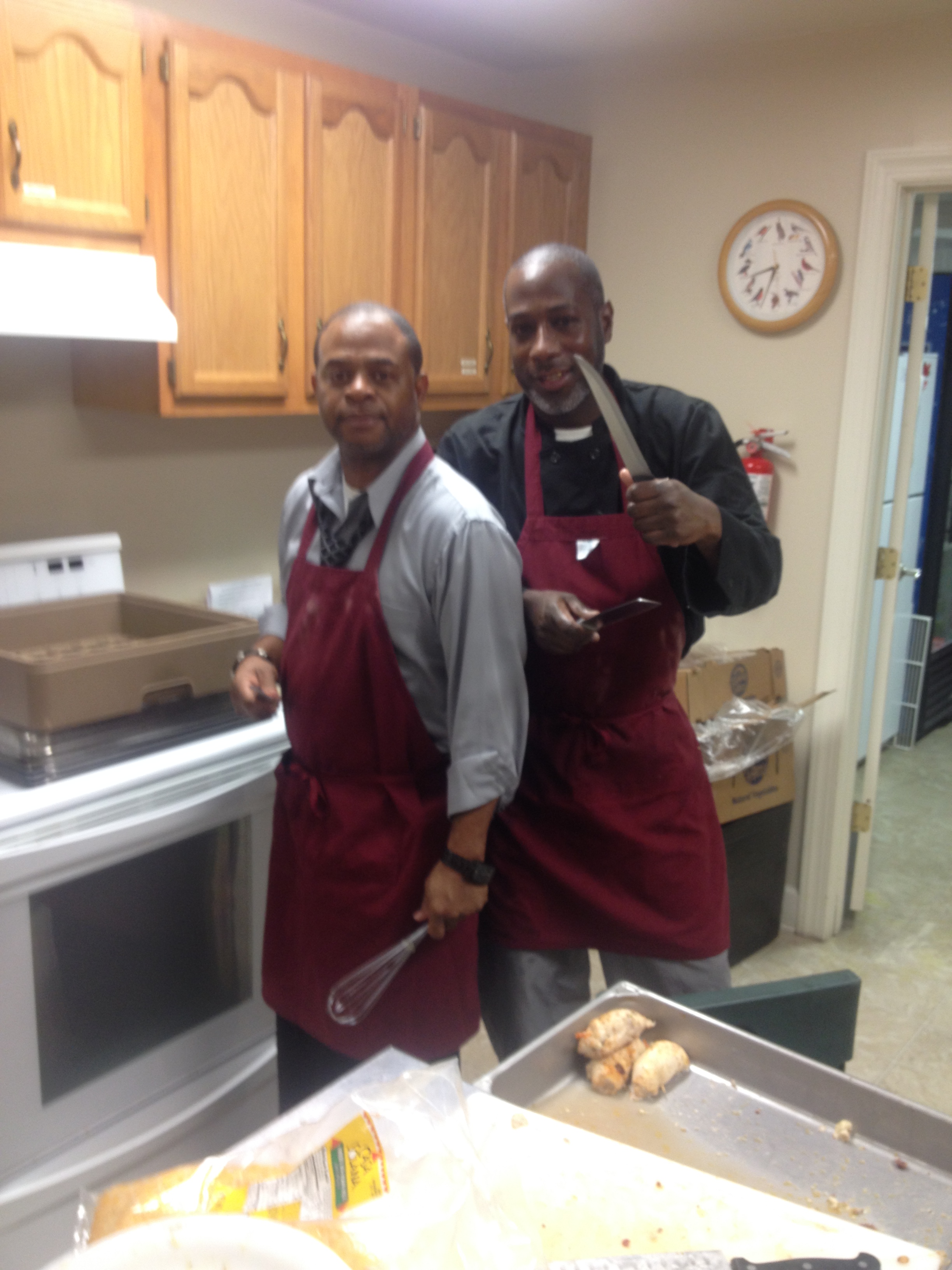 Frank Coffey and Shawn Rodgers
~~~
 It's Beginning To Look A Lot Like Christmas!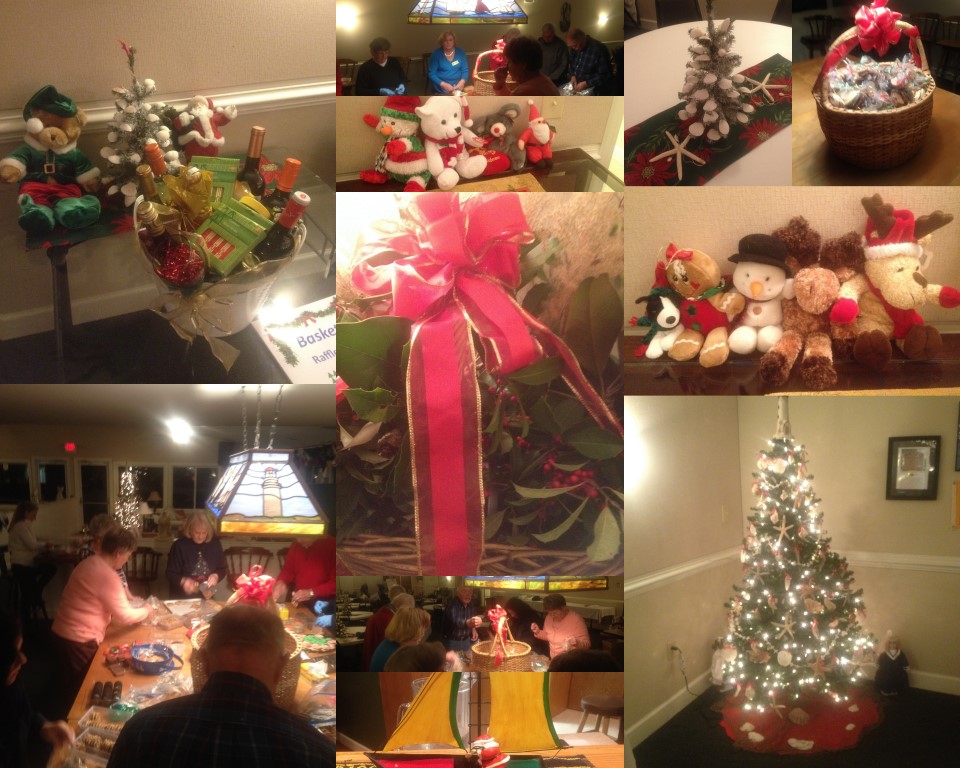 Poquoson Lighted Boat Parade
December 13
Special Olimpics Banquet and Dance 
Sunday, 7 December at 5:00 - 8:00 PM
 The Philanthropic Committee invites all members to visit the Club to witness the joy of these remarkable children and their parents at this annual  event. They will even give you a FREE DRINK (soda)!
Debbie Scott Exhibits art at Seafood Festival and Art League Gallery
Chowder for a Cause to Benefit American Cancer Society's Relay For Life-- November 16, 4-8 PM
Click here for the details (Flyer)
Great New Event- Scavenger Hunt Saturday November 1
By all accounts this was a flying success!
Click here for all the details (Flyer)
Slate of Officers and Directors for 2015 
Commodore– Ray Vernall 
ViceCommodore – Ed Roberts 
Treasurer– Dave Pine
Secretary– Rick Corn
FleetCaptain – Kathy Myers
1stPast Commodore – Donnie Mann
2ndPast Commodore – Sally Smith
2ndyear Director at Large – Pat Kimsey
2ndYear Director at Large – Roy Schenck
1stYear Director at Large – Angie Armentrout
1stYear Director at Large – Jeff Brown
2014 Work Boat Races
PYC was a GOLD LEVEL sponsor of the 2014 Poquoson Work Boat Races with many members supporting this community effort.  The weather could not have been more perfect. Click here for a few pictures of the event
Pictures from the Gator Almond Spice of Life
Party At Fort Monroe (Click Here)
Watch Video of Mumbo-Jumbo (click on arrow above)
By the way, if you have any photos you'd like to post, send them to Ed Roberts.  Also, if you want to add a caption to any of the photos here, send them to Ed and he'll  insert them.
Ray Vernall cooks the world's best hush puppies for the barbeque dinner  Friday Sept 19, 2014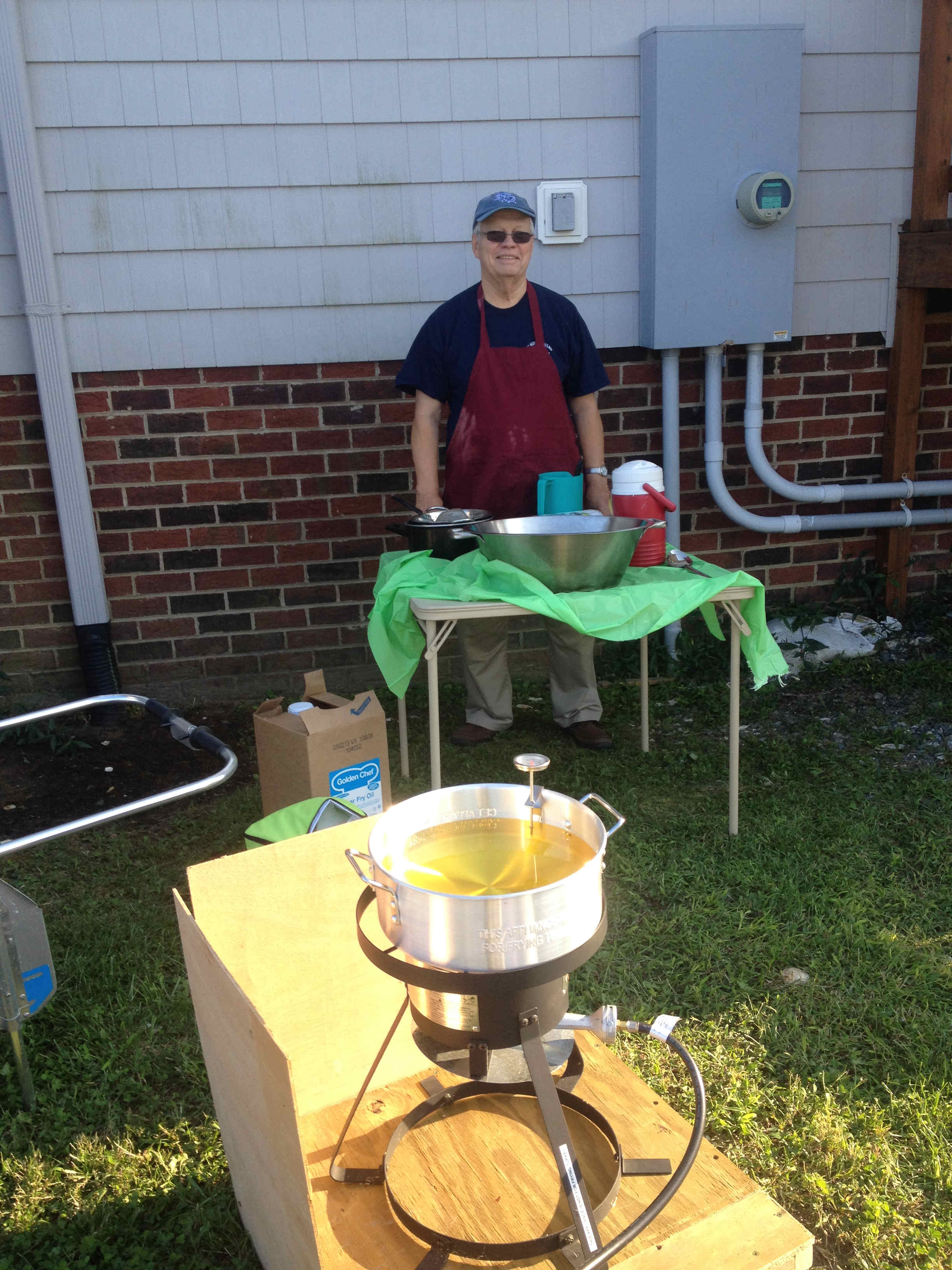 PYC Eats Out at the Whaling Company  Sept 17
If you would like to received notices about PYC Eats Out, subscribe by editing My Personal Information.  You can sign up and see who is attending; just as you do for the Friday night happy hour meals.
BIG PYC SHIP STORE SALE
 We have regular items marked down and clearance items at $5.00 to $10.00. We have everything including jackets, beer, rocks and wine glasses on sale. Our summer stock will only be available until September 26th so stop in and do some shopping.
Pictures from PYC at Windmill  Point on Labor Day 2014 (click here)
The new commercial dishwasher is installed and works wonderfully!
Great job Sally and all who made it happen!   It transforms very dirty dishes to shiny clean ones in 1.5 minutes and cleans bar glasses too!
Hard Cider now on Tap at the BAR
TRY IT!
We need folks that do not mind posting their digital pictures of club events to send then to Ed Roberts.  We will be glad to give you all the credit you want- We will even put a copyright notice by your photos if desired.  
PLEASE SHARE.
You can even post them yourselves
(but admittedly, the process is rather confusing--we are working on that!).
Let's Hear from You
If you have any message you want to put here for the membership just send it to ed.roberts@verizon.net.  Things like congratulations to certain members or "Welcome back Jim and Tess" are most appropriate.  You can sign your entry or not-- it's up to you.
The Friday Night Happy Hour Meal was well attended June 20 with over 70 meals served!
June 2014 Member's Meeting 
The June Member's Meeting was conducted the evening of June 10.  The dishes for the pot luck dinner were nothing less than fantastic.  Unfortunately, the meeting was poorly attended and many missed a great meal and the spell binding presentations of our officers and committee chairs. 
We were very happy to see Jim and Tess Beebe at the meeting following a long and difficult convalescence.  Welcome back Jim and Tess!
Highlights: *Dave Pine presented the prospectus for the proposed club bond offering.
             *Sally Smith talked about a new commercial dishwasher that is to be installed.
             *Mike Greenwood showed us how easy it is to sign up for bar tending. NOW DO IT!
             *We won't even discuss the presentation of the new Integrated Reservation System-
              like live computer demo's often go, it left the presenter looking for a rock to  
              hide under!
Folks:  PLEASE STUDY THE BOND OFFERING PROSPECTUS. You will be asked to make some decisions.
---
How to have a MEMBER-PREPARED Meal without spending all day in the Kitchen?
Roy & Marge Schenck, Ed and Virginia Roberts, and Dave Pine with some help from Stella French pulled it off with Chinese carry in from the Hong Kong Friday April 30. 
Welcome to the Bar Staff
Mike Armentrout!
Mike Armentrout made his debut at the PYC Bar on Friday April 30!  Welcome Mike! We are happy to have you!
PYC Dines Out  Pearl French Bistro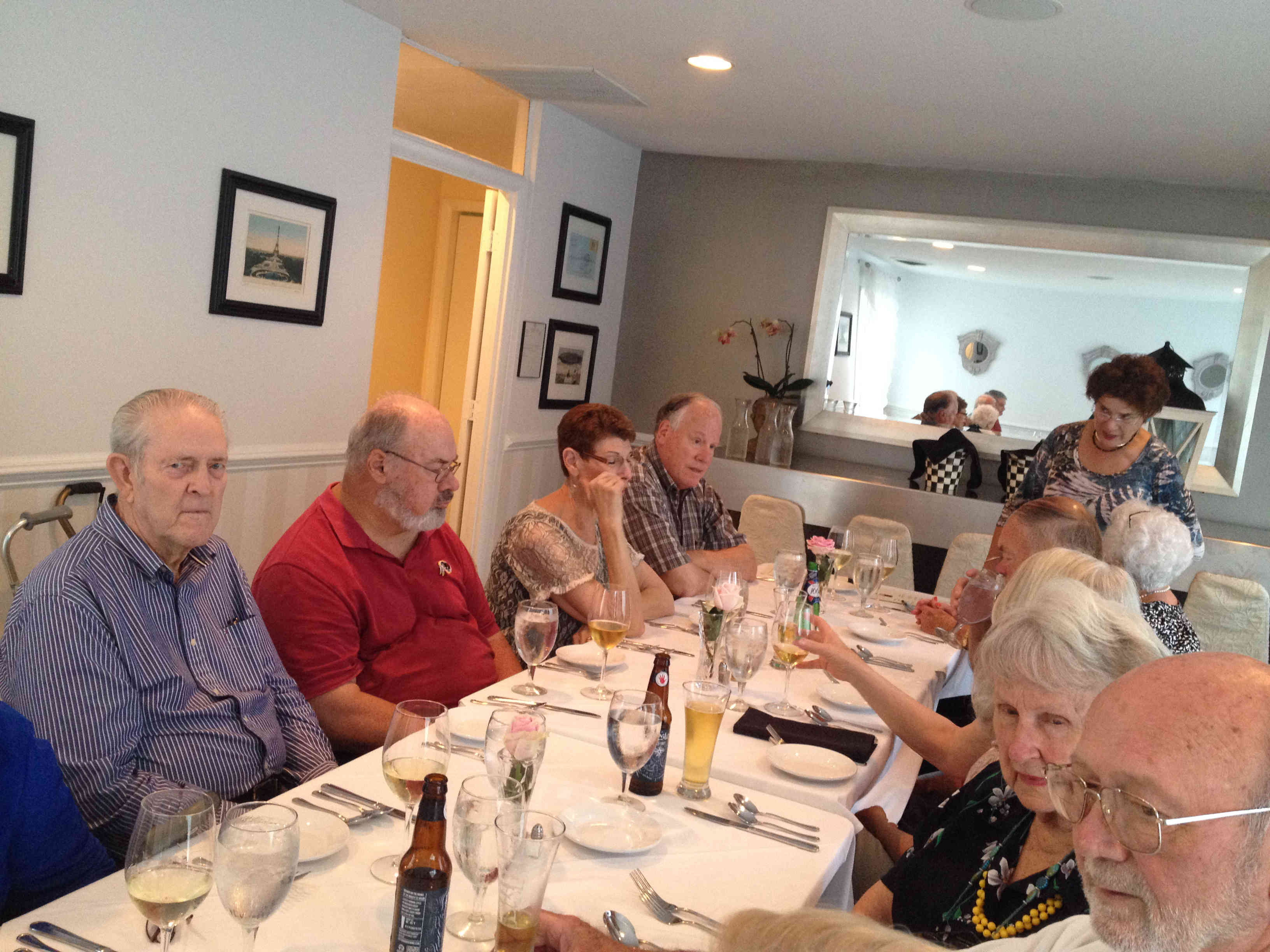 p010 
16 of out members (and former members) got together for a meal at Pearl French Bistro in Newport News.  We plan a meal together for the third Wednesday each month, usually with about 20 people.  Each month a member takes responsibility for getting restaurant reservations.  Randy Pine coordinates the sign-up sheet and gets the word out to everyone.  It is a great opportunity to try a variety of the local eateries and a lot of fun too.  If you would join us, contact Randy.
Toys in the Playroom to be Removed
 It has been decided to use the club's playroom as secure storage. With the items being stored in there presently, it is considered unsafe for children to be in there playing. With that said, any one who donated items such as toys for use in the room and would like them back, please take them.  (4-19-14)
Blessing of the Fleet and Sea Feast Canceled 
It is with my deepest regret that I must announce that The Blessing of the fleet and the Seafeast had to be cancelled due to lack of participation. These events have always been very successful and money makers for the club. But, In order not to cause the club a loss financially; the decision was made to cancel before the seafood was purchased.
We have also lost a few Chairman over the lack of club participation this year!!
Please remember this is a club built on volunteering and support. If you do not support the activities, then do not complain when there are none. Please remember when your event chairman agreed to take the event, usually 80-90 people would attend. Their budgets for things were cut severely short when only 40 sign up and participate. Not to mention the work involved for so little turn-out is personally disappointing for most..
I am open to suggestions for how to make things better and more appealing for the club. Suggestions are welcome however, you must be willing to be part of the solution and not part of the problem.
Sincerely,
Ronda McLean
Activities 
Cinco de Mayo!
Cinco de Mayo, May 5, is observed to commemorate the Mexican army's unlikely victory over French forces at the Battle of Puebla on May 5, 1862.  Cinco de Mayo is not Mexico's Independence Day—the most important national patriotic holiday in Mexico—which is celebrated on September 16 (Wickipedia).
Sharon and Ed Harper, Sally and Tom Stephens, Sally Smith, Ray Vernall, Esther and Henry Freeman working with our Master Chef Frank presented a festive dinner to commerate Cinco de Mayo at our Friday Evening dinner May 2.  The festivities were complimented with a Pinata and celebratory basket of cheer from South of the Border!  It was a very special Friday Evening--even for the Gringos!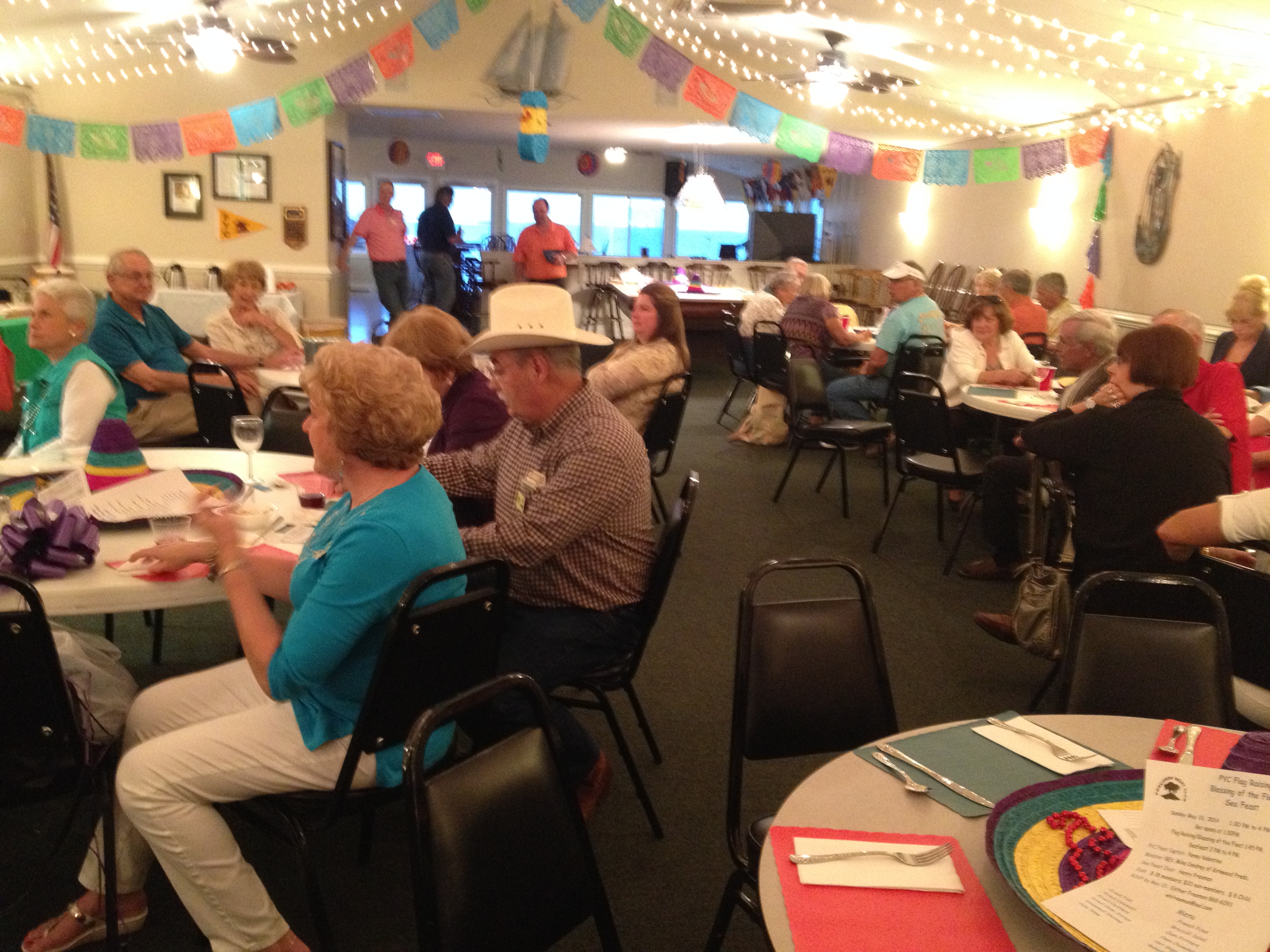 p011
---
Steak Night at PYC 
v001
PYC Ladies Chorus Line Video
(Click on screen to start with speakers on. a lot of data has to download to play the video the first time you play it.  After it is cached it should play smoothly  the second time.)
Frank Cubillo croons to Judy Townsend at a fabulous Steak Night!  The steaks prepared by Chef Joe Discenza were cooked to perfection and and the entertainment, Frank Sings Frank, was enjoyed by everyone.  Nearly everyone stayed through Frank's  closing song, "New York New York!"   The video features  a cast of the  PYC ladies in a chorus line.  
Thanks to everyone who helped to bring us this extravaganza: Joe Discenza, Virginia Roberts, Ed and Sharon Harper, Chip and Cathy Petre, Winn and Henri Granger, and Debbie and Bobby Scott. And special thanks to the last-minute-pitch-in bar staff: Tom Zeitler andTom Stevens and to Fred Kimsey who made a last minute run to replenish depleted bar supplies!  GREAT JOB ALL!         Frank has been booked for Steak Night 2015!
 [ Note: If anyone has some good pictures please sent then in and they will be posted in the Photo Journals.  It would be particularly good to get some of Joe at the grill or in the kitchen.  Also, please let me know if anyone is due credit that I missed.-- Ed} p012
---
City of Poquoson Rain Barrel Project
The City of Poquoson Department of Public Works is organizing a rain barrel workshop and has invited PYC to participate.
Click here to see the city's letter.
 (Use your browser's back button to return to this article)
---
We need some bartenders!
Do you want to drink from plastic cups ?
VOLUNTEER!
---
  Rummy Cup?
Bridge?
Other Games?
Members are reminded that we have numerous games in the cubboard and  will be glad to rearrange tables in the Bar Area to support playing games after Friday night dinners.   Stay after dinner and play the games you love!
---
Reporters / Photographers WANTED 
We would be happy if every member participated in keeping this Web Site up to date!
Please send us your photos and stories.  You can post your articles and pictures yourself or if you are not comfortable with that, send them to ed.roberts@verizon.net.  This site is an experiment and we want everyone involved! 
---
Eight-Ball Tournament 
Joe Discenza and and Commodore Donnie Mann co-chaired a an Eight-Ball Tournament at the club on February 15, 2004. 
Lawrence Meyers took first place while Erin Schiller, a guest of Ronda McLean came in second.
 p013,p014,p015,p016,p017