11th Annual Chili Cook-off
New Rails on Front Porch
Many thanks  to Buddy Green and the House and Grounds Committee for the new rails on the front porch steps.  The design is perfect and those that need them truly appreciate the new addition.
2015 Christmas Party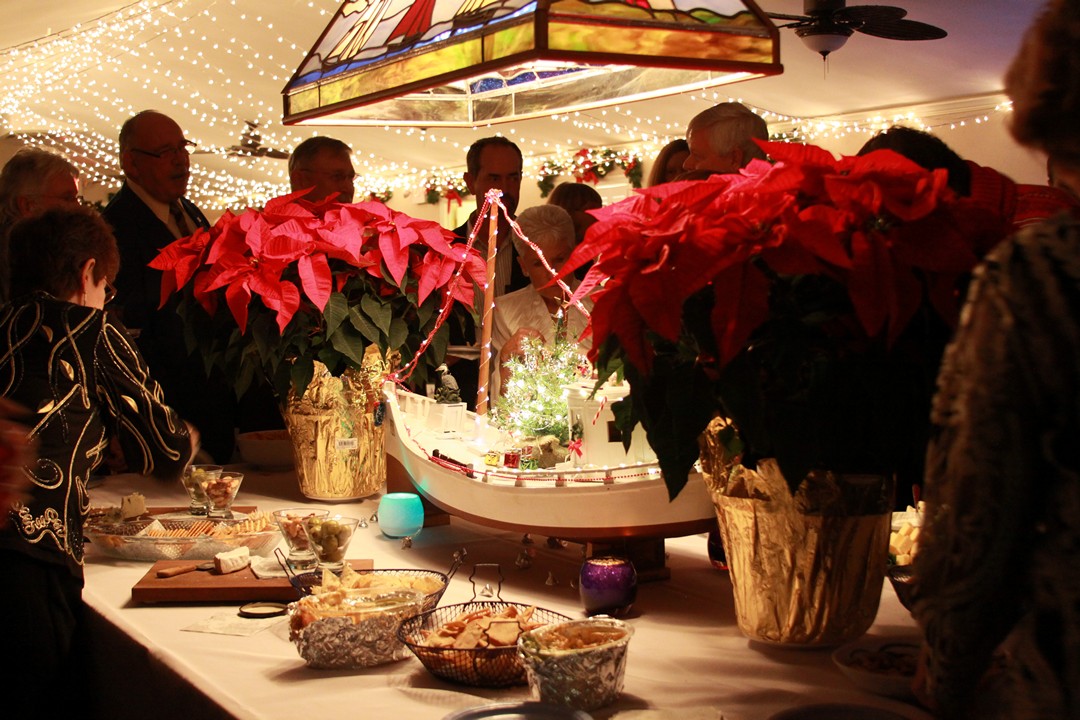 Annapolis Yacht Club Burns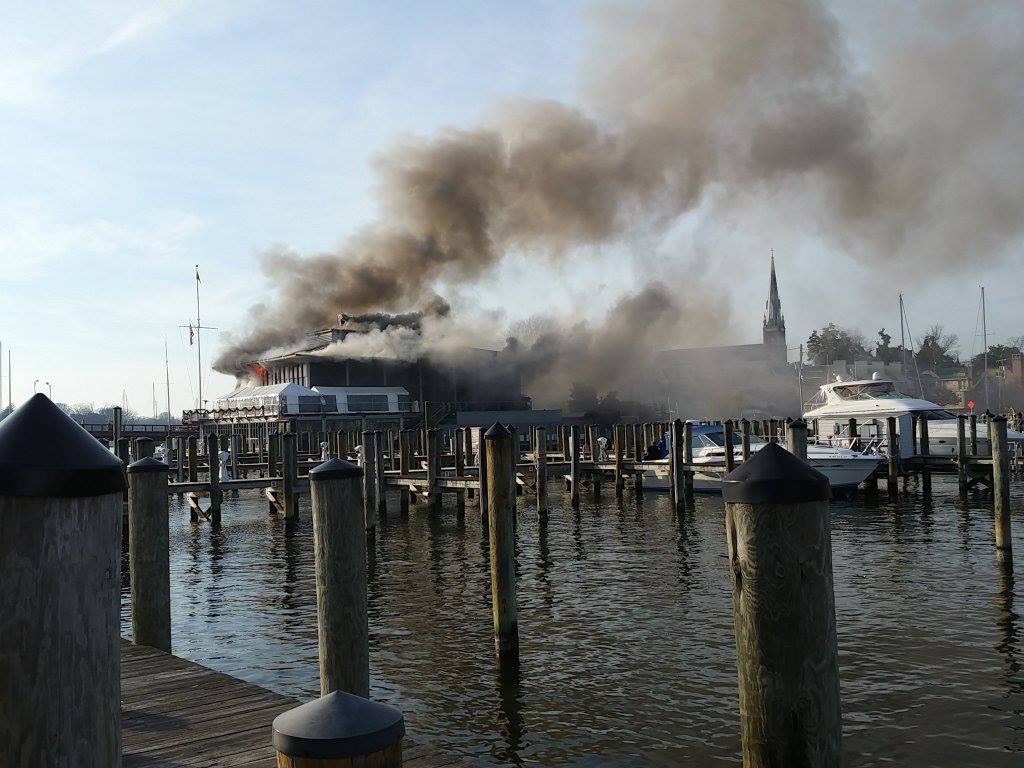 Esther Freeman provided this photo of he Annapolis Yacht Cub burning.  The fire was reportedly started by a Christmas tree.
Santa Visits Poquoson Yacht Club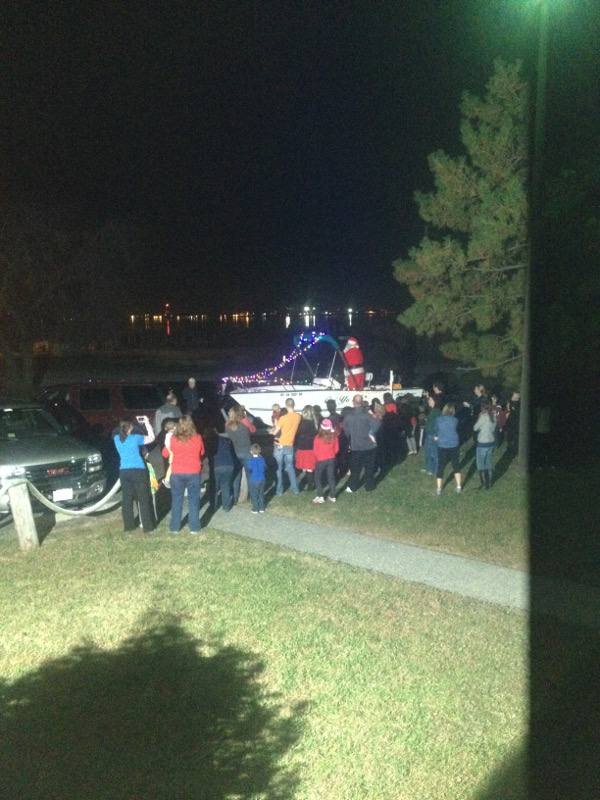 In accord with prior arrangements, Santa arrived by boat at the club at precisely 6:00PM  Saturday evening November 28.  Thanks to Tom Stevens, Shirley Myers and lots of other helpers for making this a memorable evening for  many of Poquoson's children. 
Getting Ready for Santa's Arrival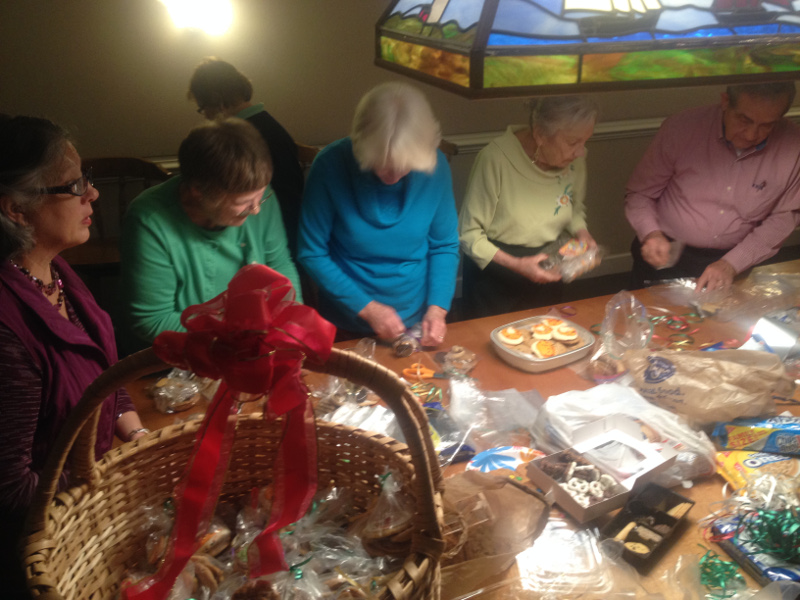 Santa is scheduled to arrive
 at the Poquoson Yacht Club on Sat evening 28 Nov.  The club  will be open at 5:30 PM and Santa will be arriving at  approximately 6:00 PM. Santa will greet all children and  give a small gift to each child.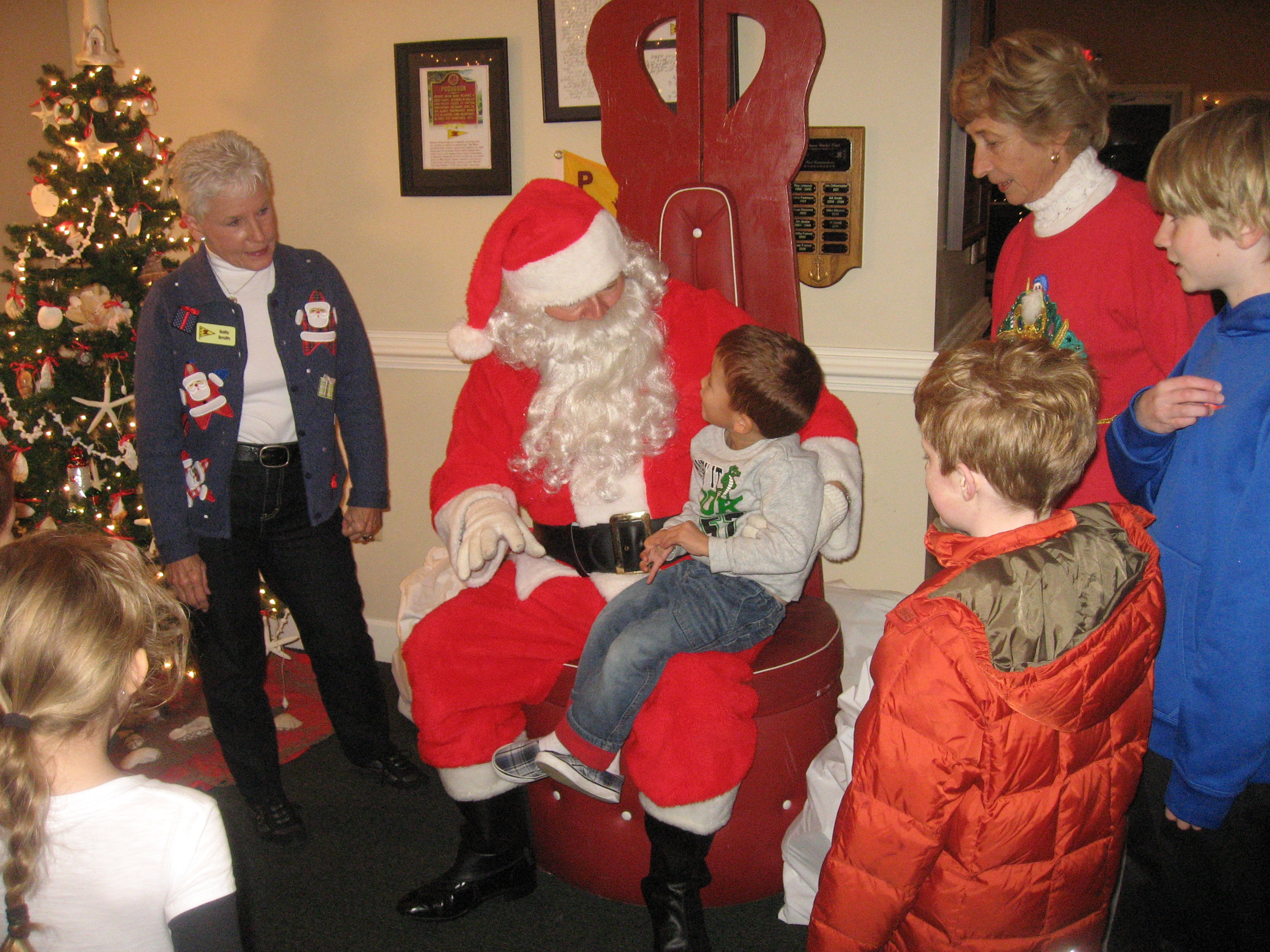 The public is welcome and PYC members are  encouraged to bring cookies and gifts  to pass out to the  children.  Cookies  and gifts should be brought to the  club on the coming Fri nights.  Boxes are provided for the  gifts and cookies brought before the Cookie Wrap on Fri, 27  Nov. should be placed in the freezer/refrigerator.  Louise  Peters is coordinating the cook.ie wrap.  Gary and  Shirley Myers are handling the refreshments and managing the  gifts.   Tom Stephens is the "S-man"
Bermuda Cruise on Carnival Splendor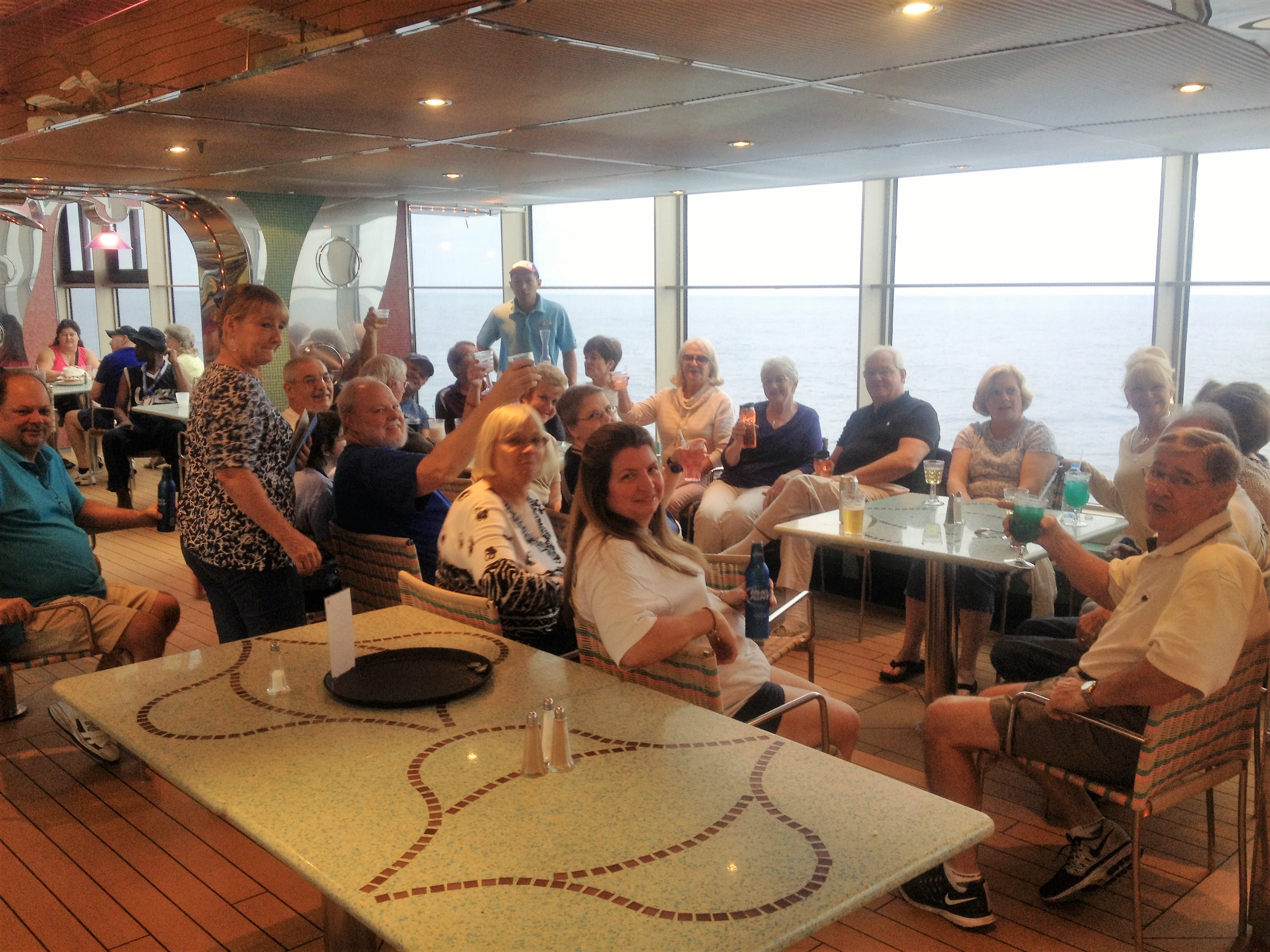 This photo includes many of the PYC members who embarked upon the Carnival Splendor for a 7-day cruise to Bermuda.  Here we are enjoying drinks and snacks on the Lido Deck, somewhere in the Atlantic on Saturday afternoon.
Website Upgraded for Mobile Devices
The PYC website has been upgraded to provide more useful output for Mobile devices.  For example, logon with an iPhone, select Membership Database (roster), hit execute.
The names, addresses, and phone numbers of all  members will be displayed in a format convenient for the iPhone.
For a comprehensive report of 2015 activities 
 Christmas Party SOLD OUT
All available seats (130) were sold as of 13 Nov 2015.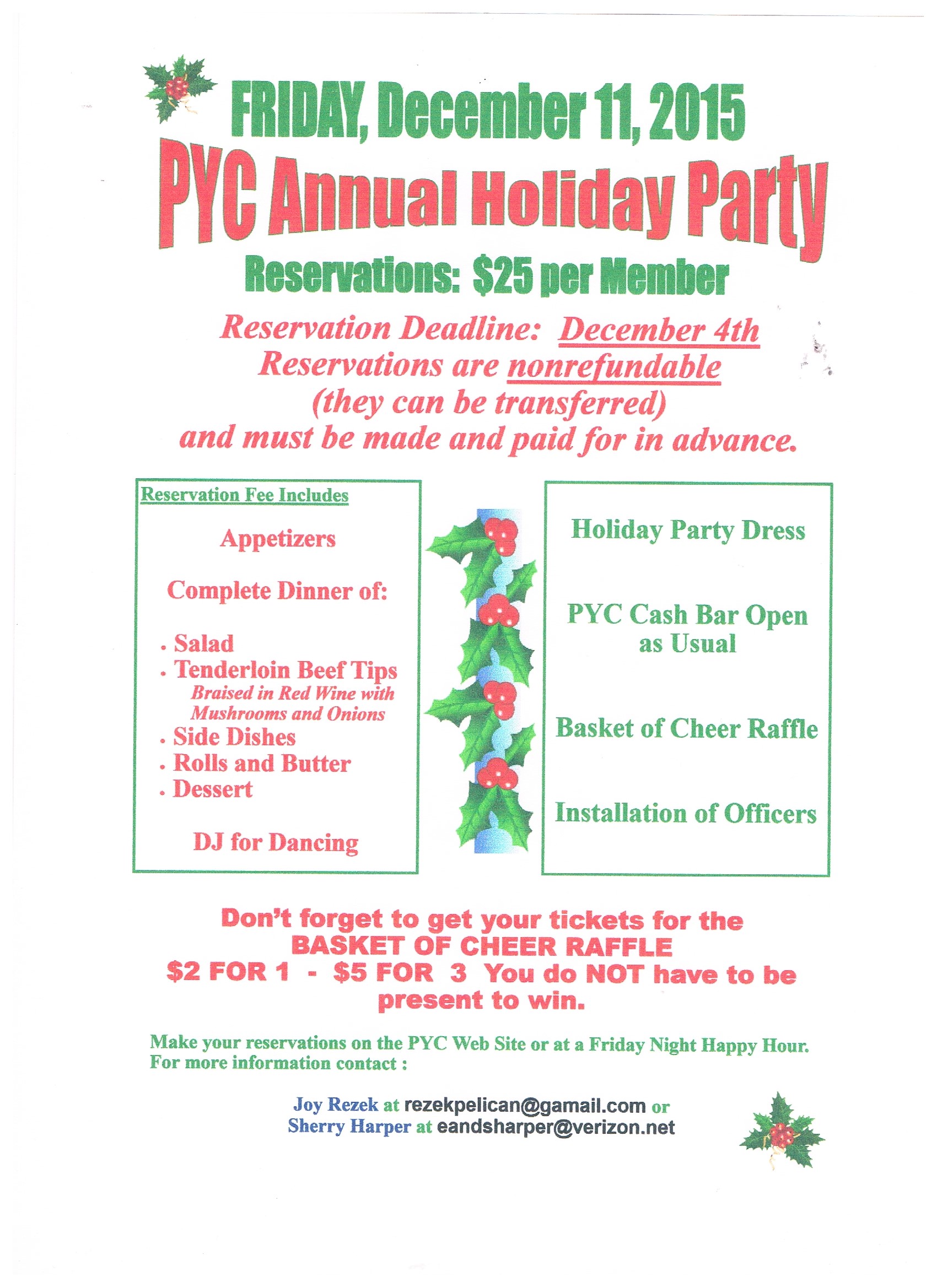 Octoberfest Huge Success
If anyone has pictures, please send them to Ed Roberts
Thanks to all who helped with the Nor'easter Cleanup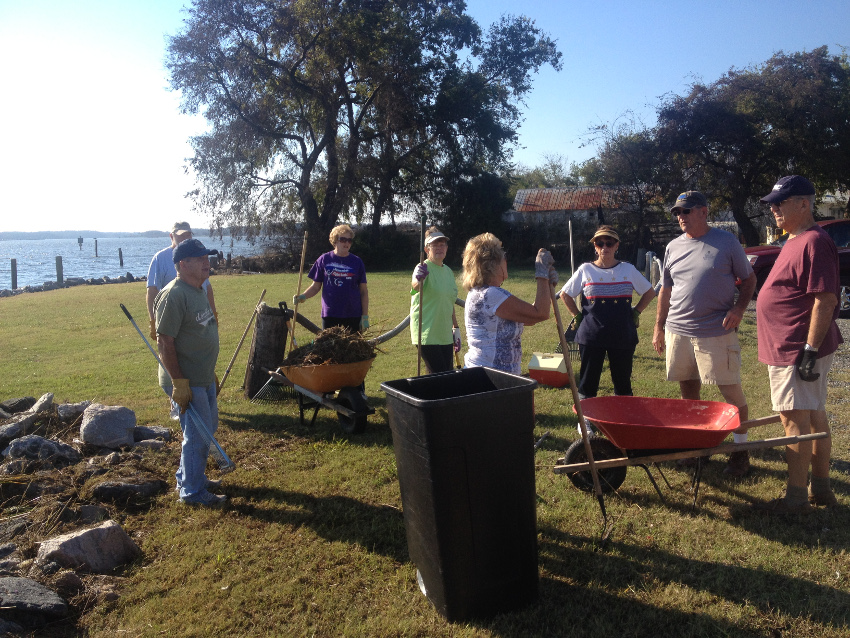 FACEBOOK:      Andrea has set up a Poquoson Yacht Club Group on Face book.
Something many of us have not seen or heard about:
Israel's memorial to 9/11 
 Be sure to scroll down, there are 15 photos.
Late Arrivals
Don't miss a great music/video production of  this year's Mystery Dinner Theater we just received.
There is also a music/video production of the 2013 Mystery Dinner Theater "End of Prohibition" and photos from the 2013 Golf Tournament.
 Click here then scroll down
========================================================================  
End of Summer Bash-- A SMASH HIT!!
Click on arrow to see a music/video presentation of photos by Fred Kimsey produced by Ed Hartman
Click here to see other videos and photos by Esther Freeman
Virginia (and PYC) Are For Lovers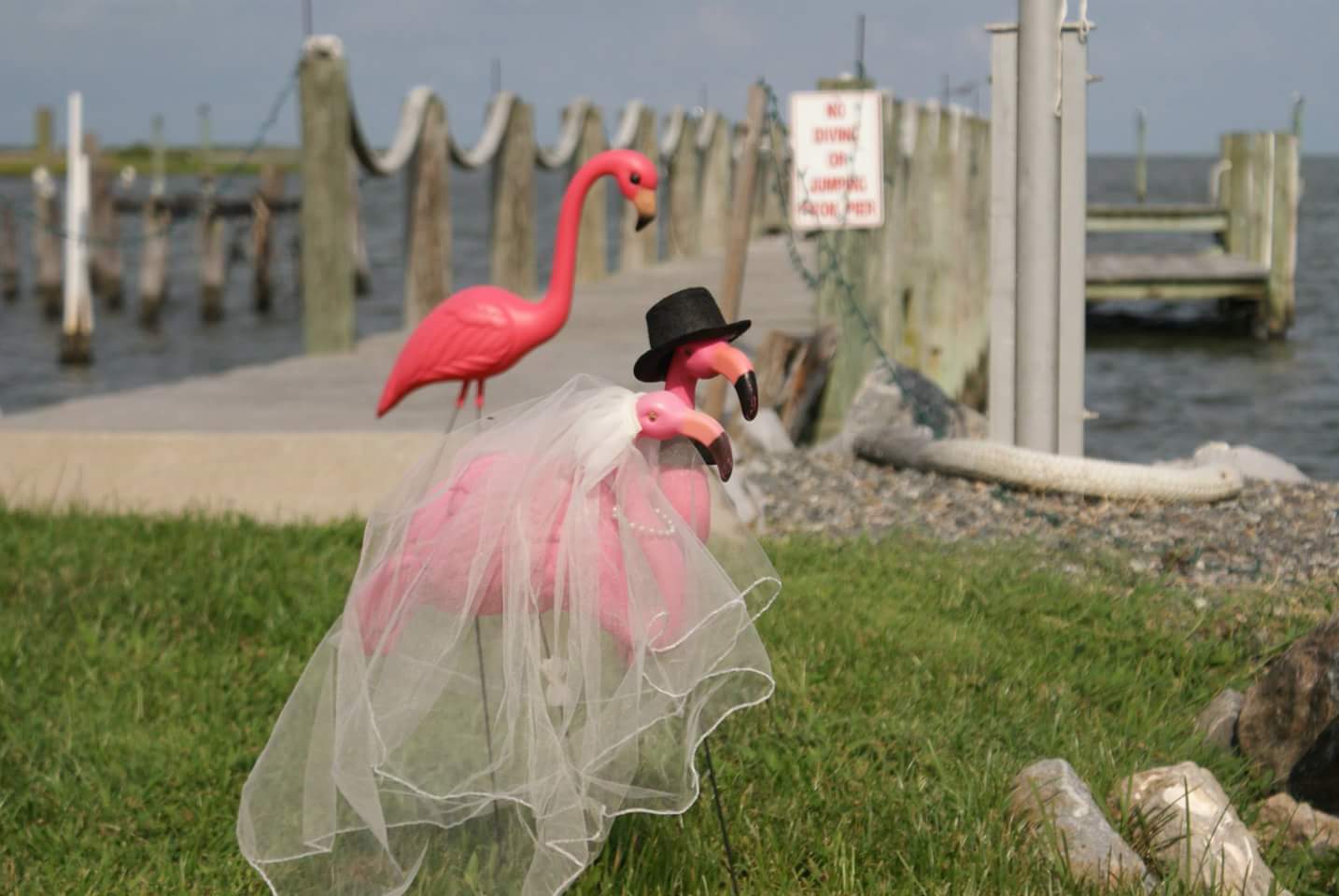 Photo by Kendra Merrell. See another in Rent Our Club
Boating Season Concludes with Trip to Windmill Point
The 2015 PYC boating season concluded with a fun-filled trip to Windmill Point. Kathy Myers did such a terrific job as Fleet Captain this year she has been nominated to fill the position in 2016.  THANKS, Kathy, for a job well done!  We look forward to next season!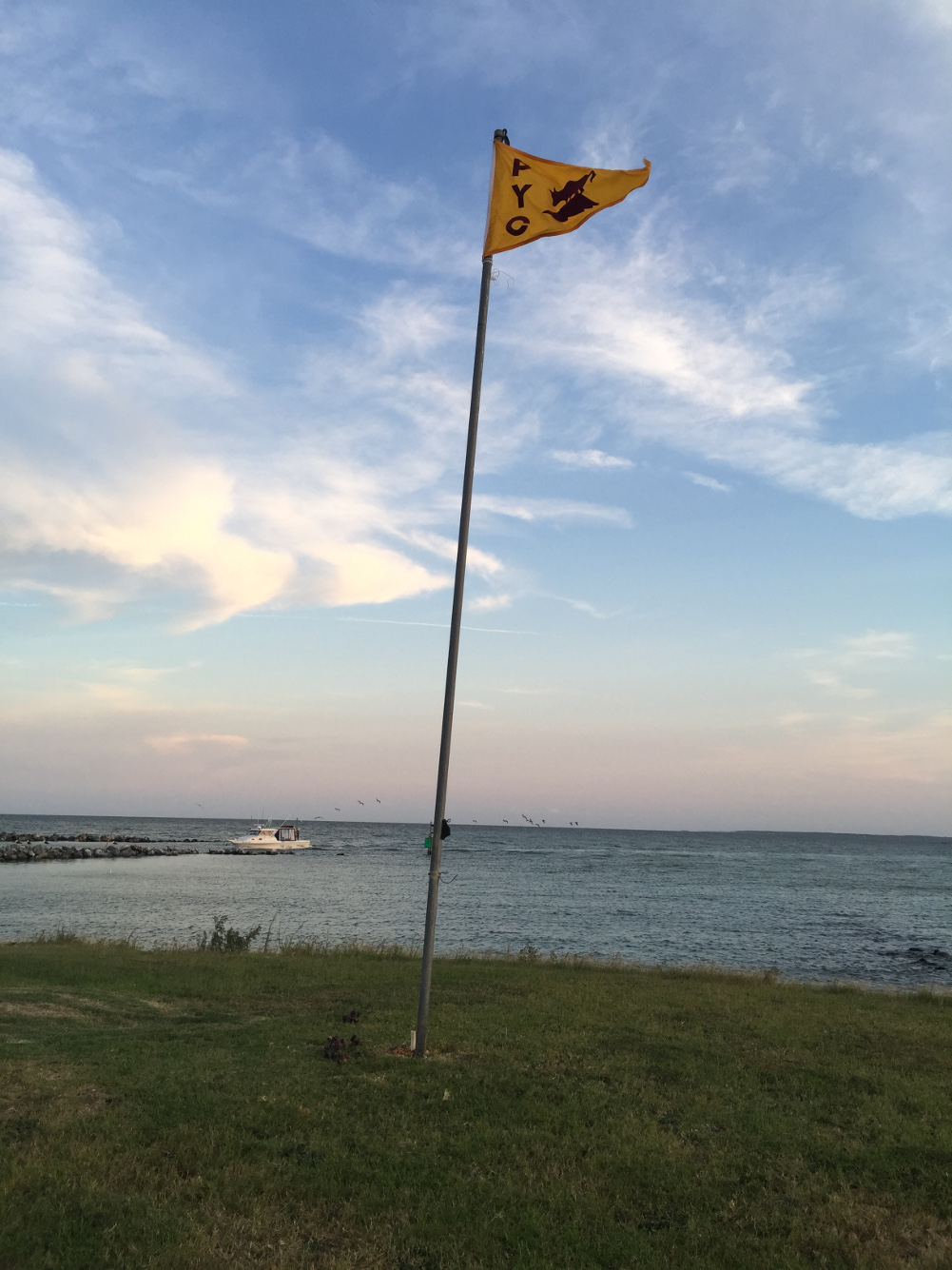 Click here to see more Windmill Point photos by Kathy Myers
Scavenger Hunt August 28
2015 Corn Hole Tournament Winners!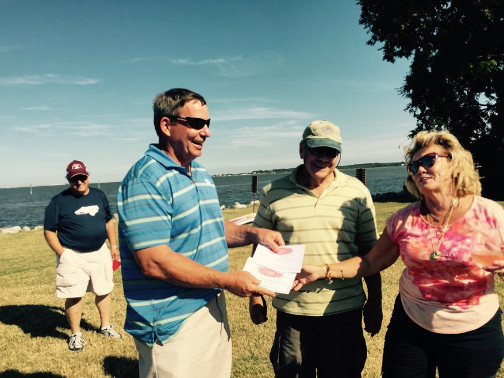 Photo by Joe Discenza
Charlie French looks on as Vince Wisinewski presents awards to Corn Hole champions Chris and Penny Valentine.
Pot Luck Dinners are the BEST!!!
The Scotts provided these wonderful beer-steamed crabs Bobby caught himself.  This is only one of the many tasty dishes that were served at our latest Pot Luck Dinner.  It's a shame that so many missed it!
By the way,  the club needs your support and participation even at Pot Luck Dinners.  Due to the closures early in the year we are running a bit behind plan.  The bar suffers from low attendance in the summer months and we need about 60 folks eating to break even on catered meals.  If you are in town, please come to the club on Fridays!
Port Messick Breakwater Project
The city has received funding to install two breakwater barriers  east of the club.  
Blue Moon
 A blue moon is an additional full moon that appears in a subdivision of a year: either the third of four full moons in a season, or a second full moon in a month of the common calendar.--Wickipedia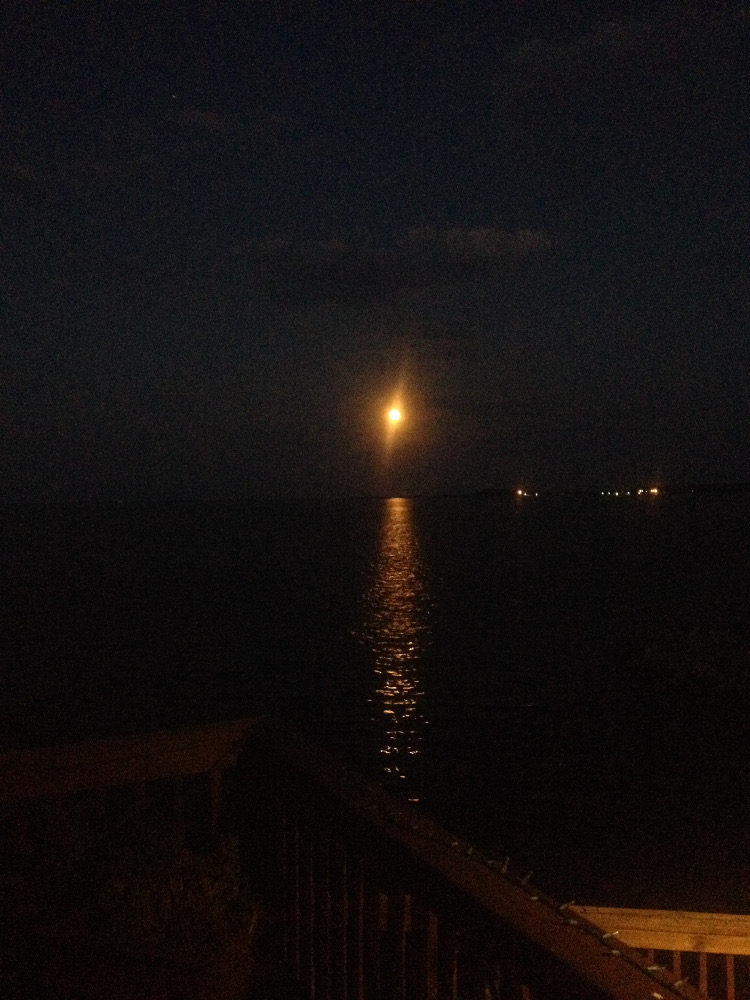 Blue Moon July 31,2015
Web Site Administrator Classes
Classes on administration of the PYC website will be scheduled in the fall.  Watch here for more information.  NO EXPERIENCE REQUIRED
New Effort to Get Old Members to Return to PYC
The Board of Directors has decided that during the month of October, 2015, any member may reinstate his or her membership by paying the pro-rated dues for the remainder of the year.  The former members will not be required to pay any difference in the initiation fee that they paid and the current initiation fee.   
Please help to spread this information to former members.
---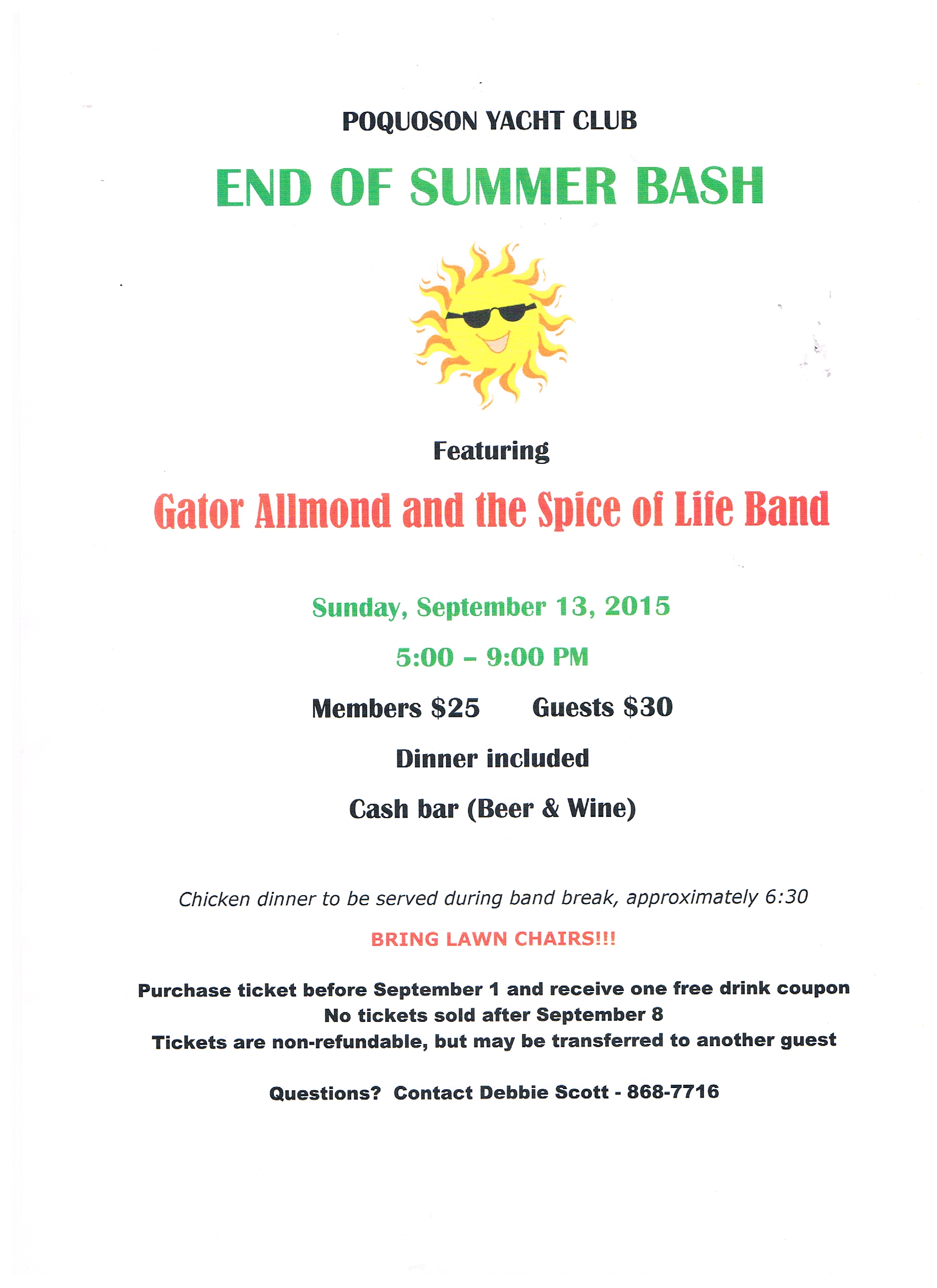 ---
PYC Dines Out, JULY, was hosted by  Dottie and Len Poniatowski at Carrabba's Italian Grill in Newport News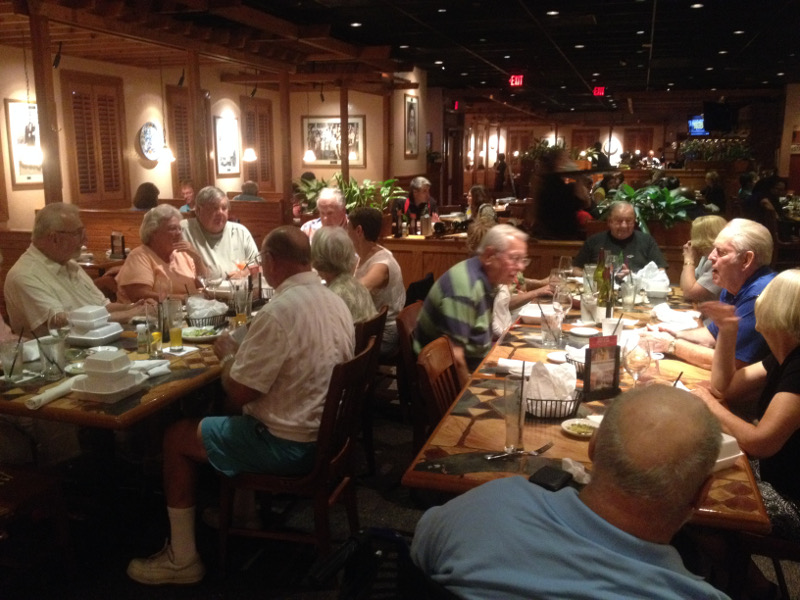 The PYC Dines Out dinners are held on the 3rd Wednesday each month at a different locations.  Usually, we have about 20 members and former members attend.  For the rest of this year, Randy Pine will be coordinating the events.  Next year, we will issue invites (to those members who subscribe)  and you can sign up on-line just as we do with Friday Night Happy Hour.
Larry Svihal and Margaret Trejo Host PYC and Kiwanis for Fourth of July Party and Fireworks at Fort Monroe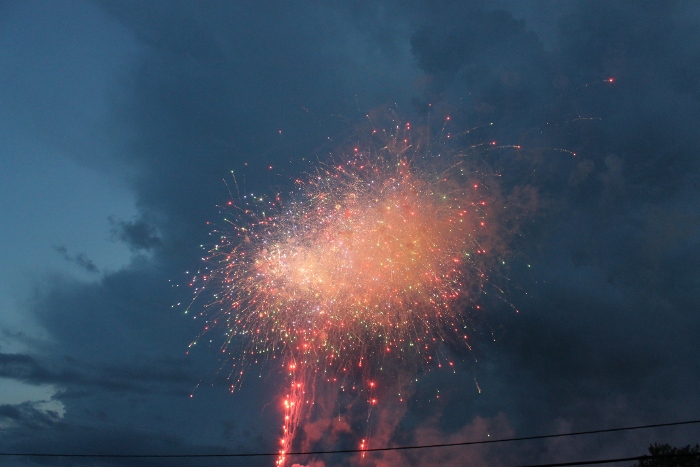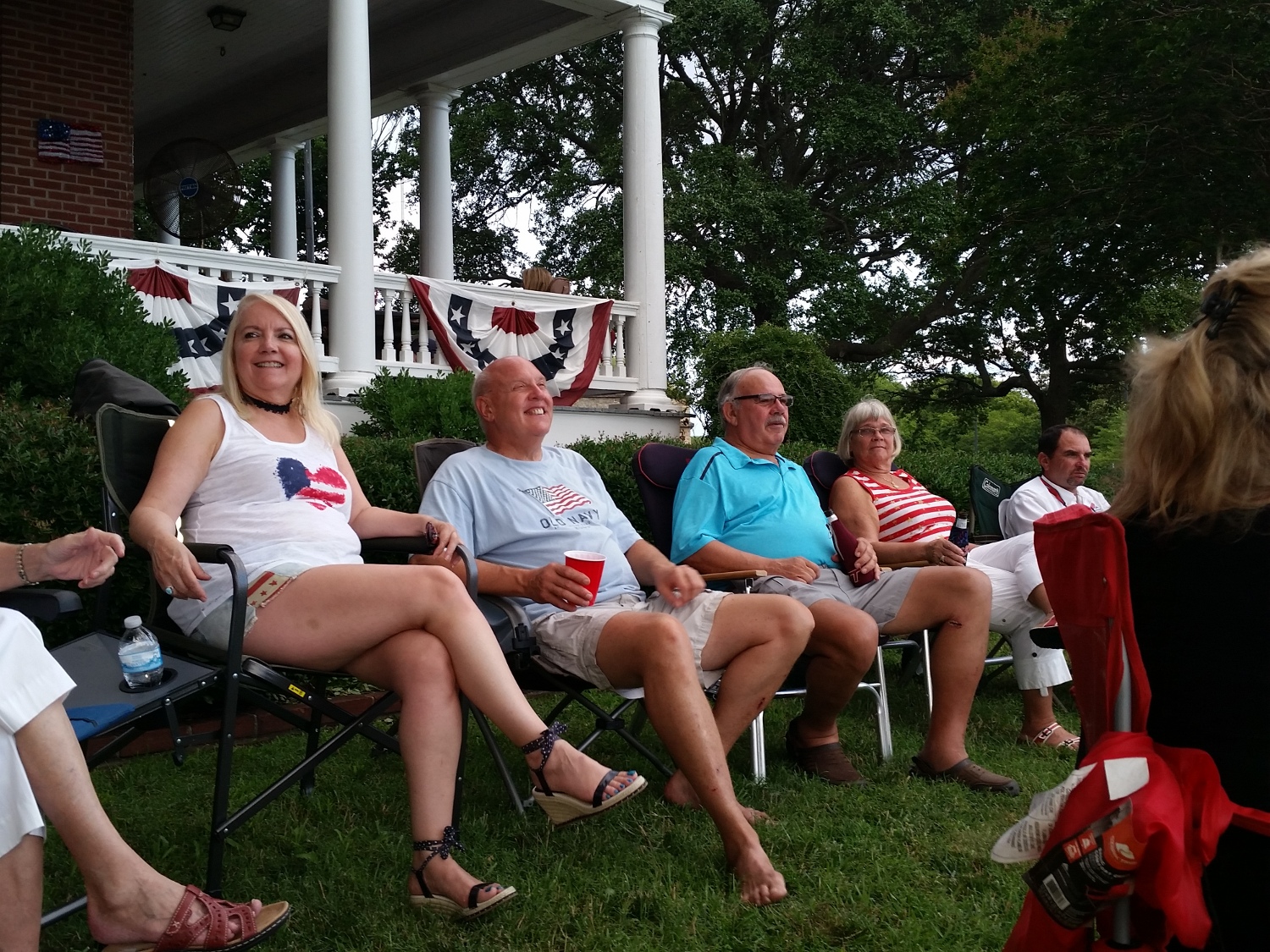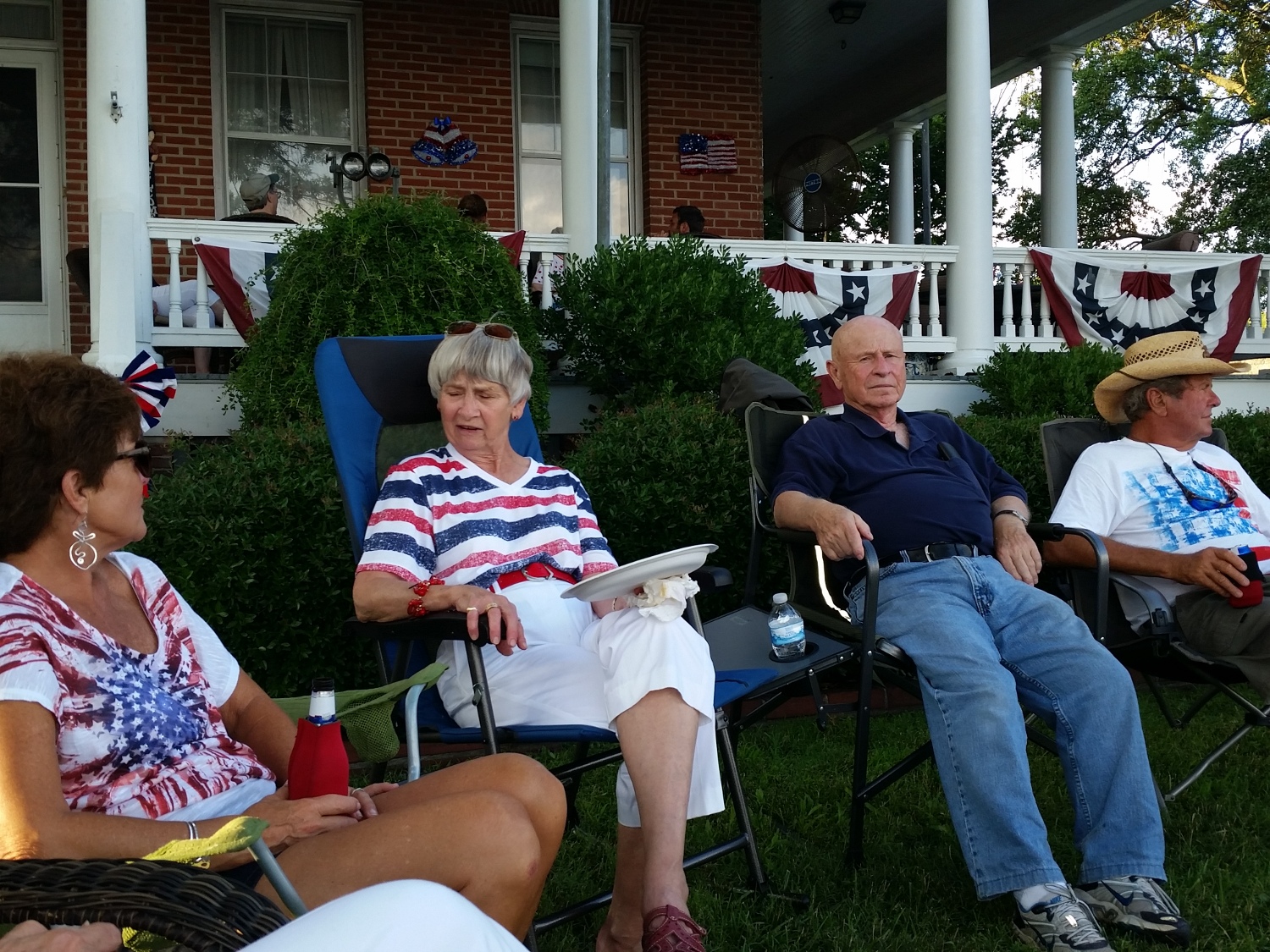 Photos by Paul FlorCruz    
Wine and Cheese Party June 6 2015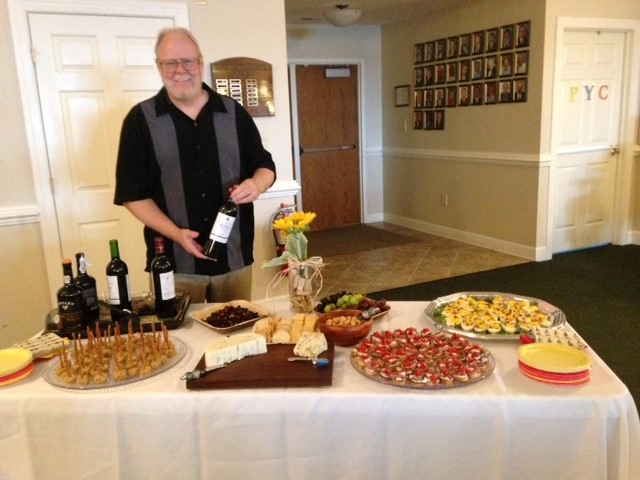 Ed Hartmann shows a few of the fine wines and cheeses at the 2015 Wine and Cheese party.
Memorial Day at Cape Charles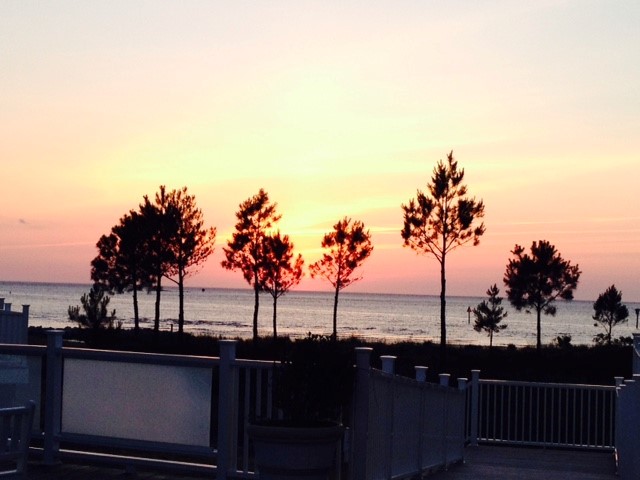 Photo by Mike Stephens
The Blessing of the Fleet
Sunday May 17, 2015
The weather was beautiful and the message-- meaningful and memorable. Over 60 members and guest of Poquoson Yacht Club attended the annual Blessing of the Fleet.  
The "Blessing" was invoked by our guest chaplain, Angela Costello along with her son Nicolas.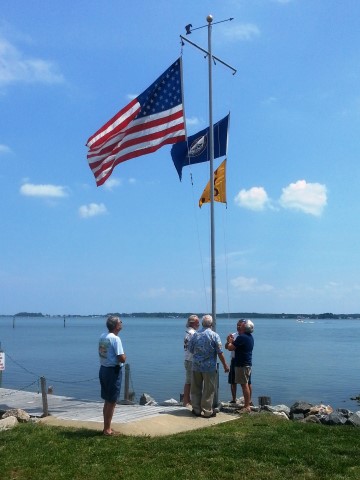 Photo by Fred Aronson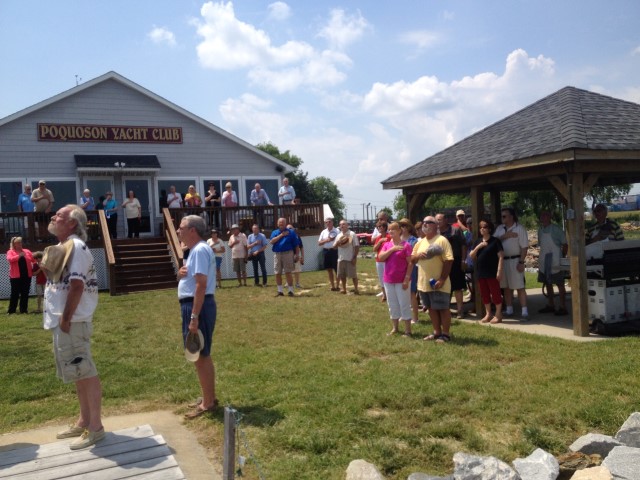 Murder at the Long Branch Saloon!
"Return to Dodge City", a play in 2 acts by  Andrea Hagner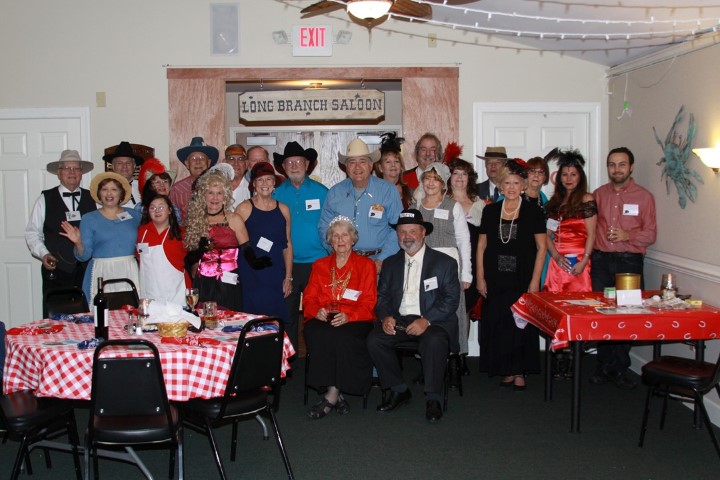 It was a HOOT!    Click here for the playbill and a great set of pictures by Ed Hartmann.
Steak Night With Frank Sings FrankSOLD OUT
The steaks were Fantastic as Frank Cubillo crooned to a sell out crowd at Joe Disceiza's annual Steak Night.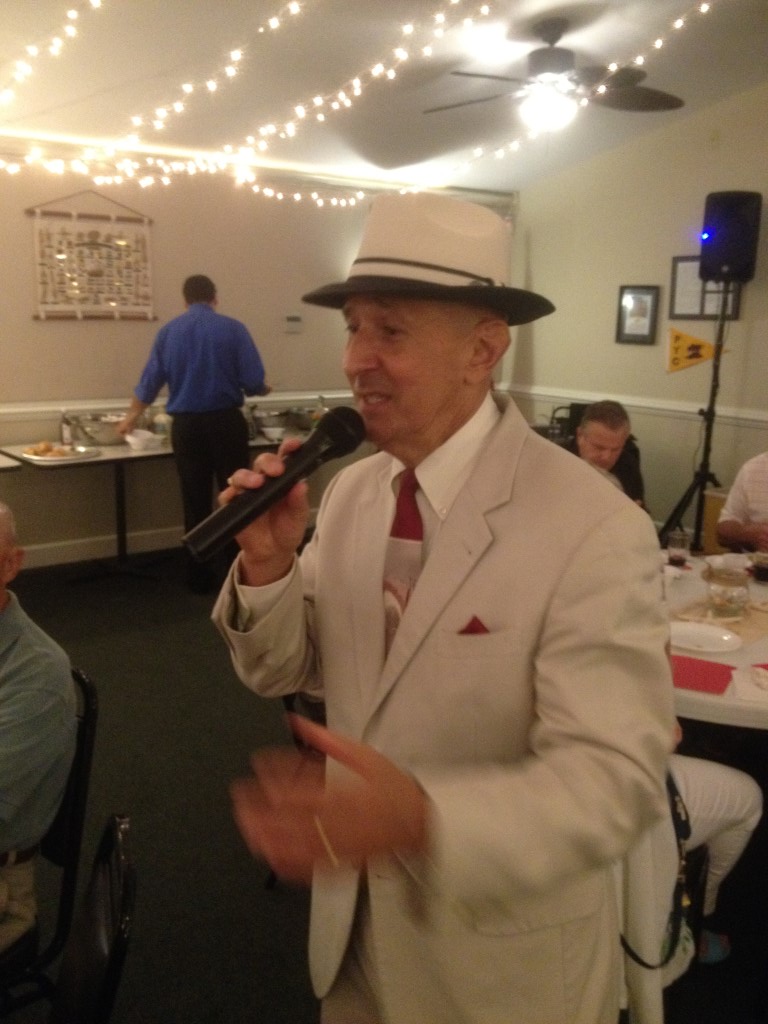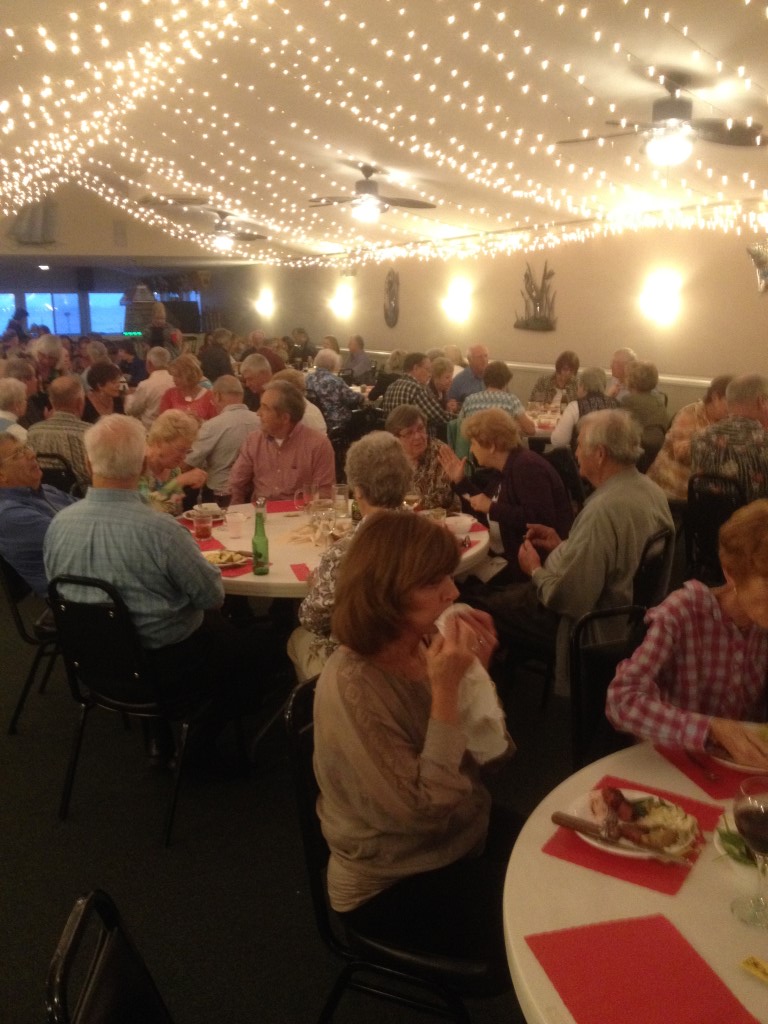 PYC Golf Tournament
Al had better control of the weather than he had getting our members and guest to be quiet to hear the results of the Annual PYC Golf tournament on Friday.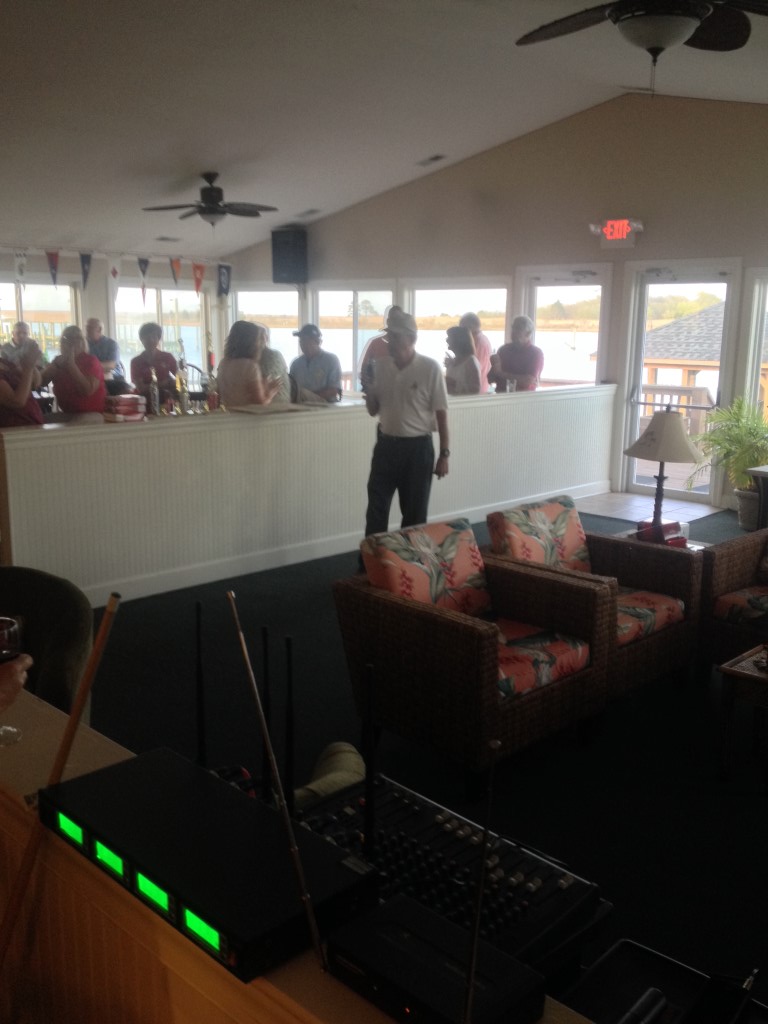 Click here for the complete results
LAFAYETTE'S HERMIONE VOYAGE 2015
This year, L'Hermione, the "Frigate of Liberty," in which Lafayette sailed to America in 1780, will sail again.  She is scheduled to visit Yorktown June 5, 6, and 7.
Click here for more information.
Wi Fi Available in Club for Members
Members may click on "WiFi Available in the article selection menu for additional information.
Scientific Calculator $1.00
Maybe you need to reduce a celestial sight for navigation.  Or, maybe you are like me, just a calculator freak. But whatever, $1.06 (tax included) is an amazing price on a calculator available at Poquoson Dollar Store (next to Farm Fresh).    Click here for details
Saint Patrick's Day Celebration
Perhaps a little early this year, but PYC celebrated St. Patrick's Day  Friday evening March 13--just testing our luck!  Andrea held a Pub Quiz afterwards.  By the way of quiz questions: How many of us know that St. Patrick is the patron saint of engineers,  or that he was, in fact, an Englishman?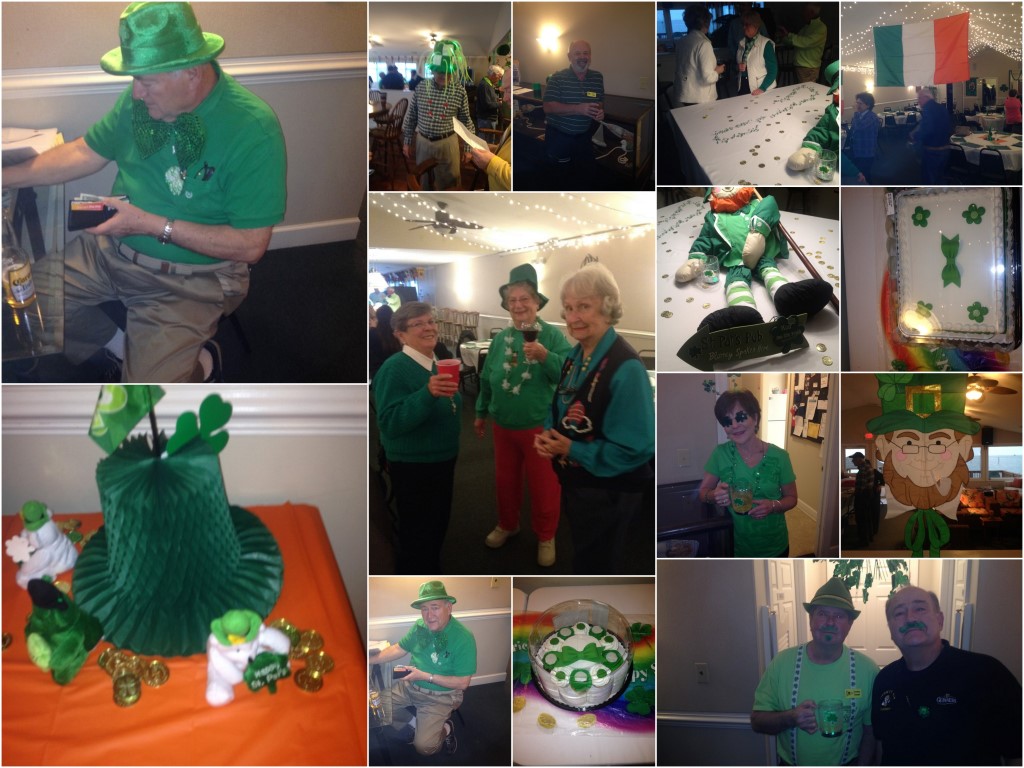 Poquoson Education Foundation Casino Night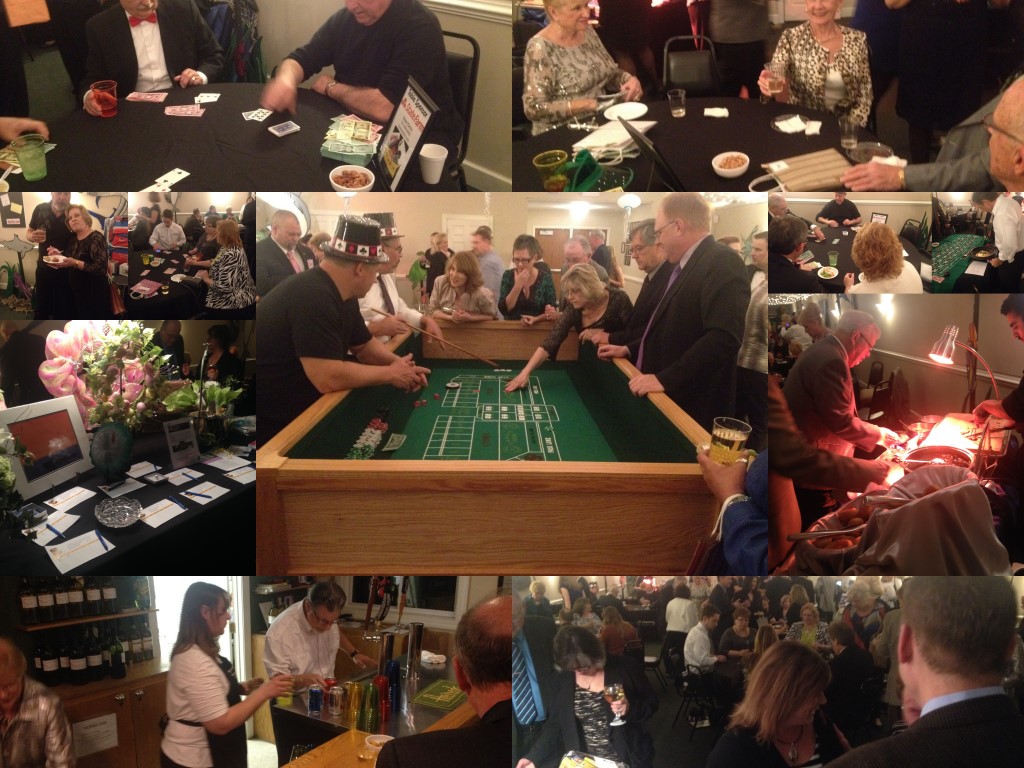 While not a PYC event, many PYC members supported and participated in the production of the PEF Casino Night held at the club on March 7.
South for the Snow Months ?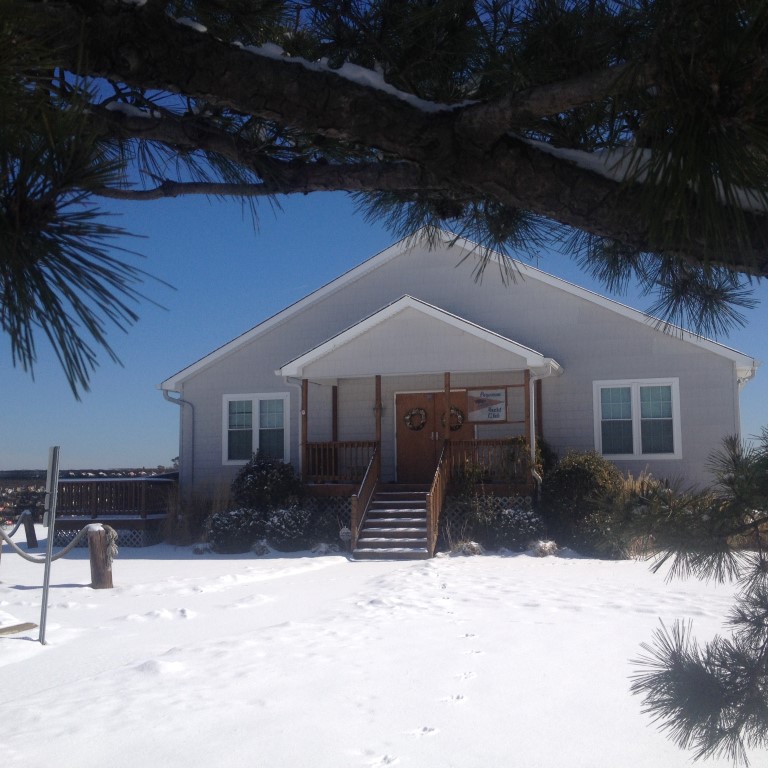 The Club closed for 2 weeks due to snow!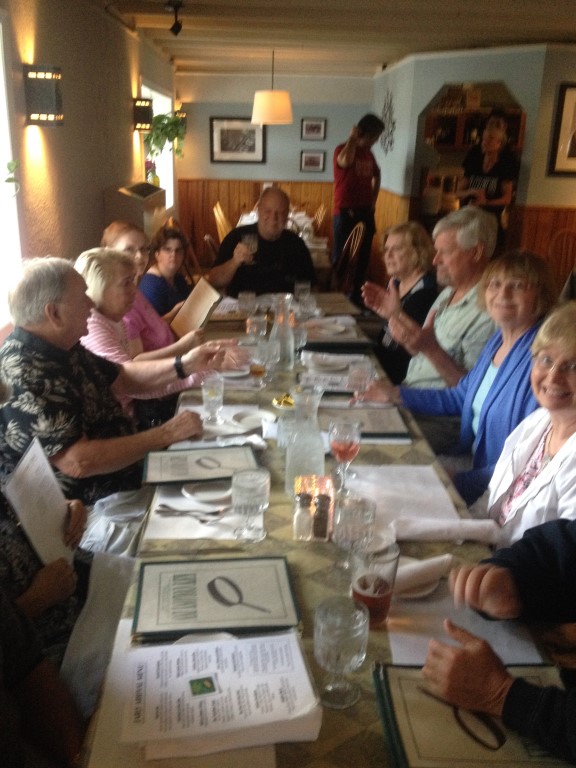 PYC is well represented at Marathon Key in the cold months.  Here a bunch of our folks are having PYC Dines Out at the Key Colony Inn in Marathon, FL.  No snow in Marathon!
PYC 2015 Pool Tournament
The Annual PYC Pool Tournament was held on Saturday 7 February.  Joe Discenza Provided the following photos.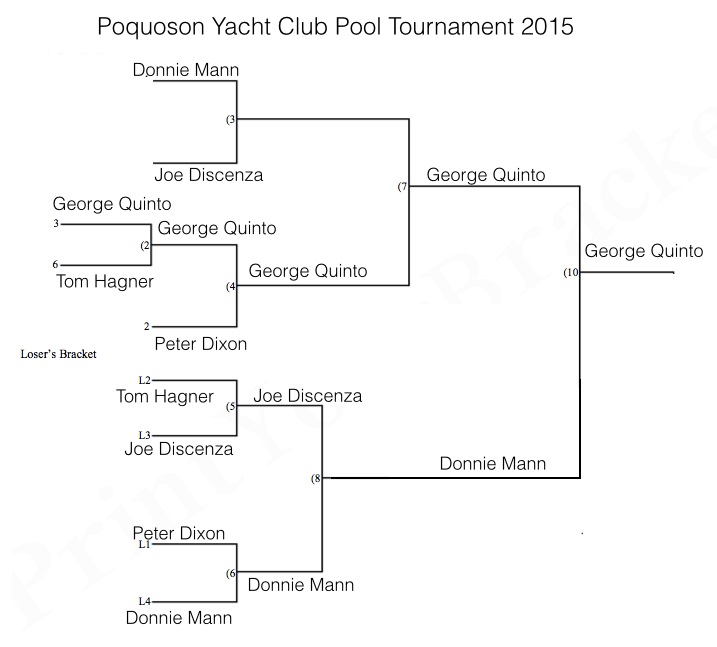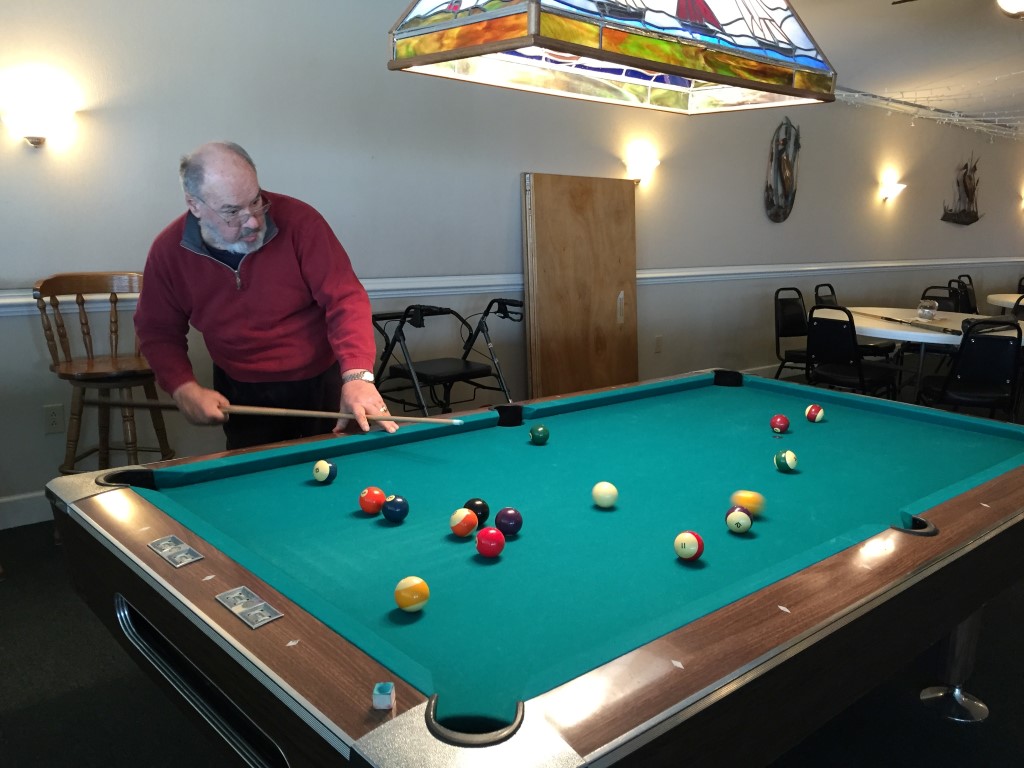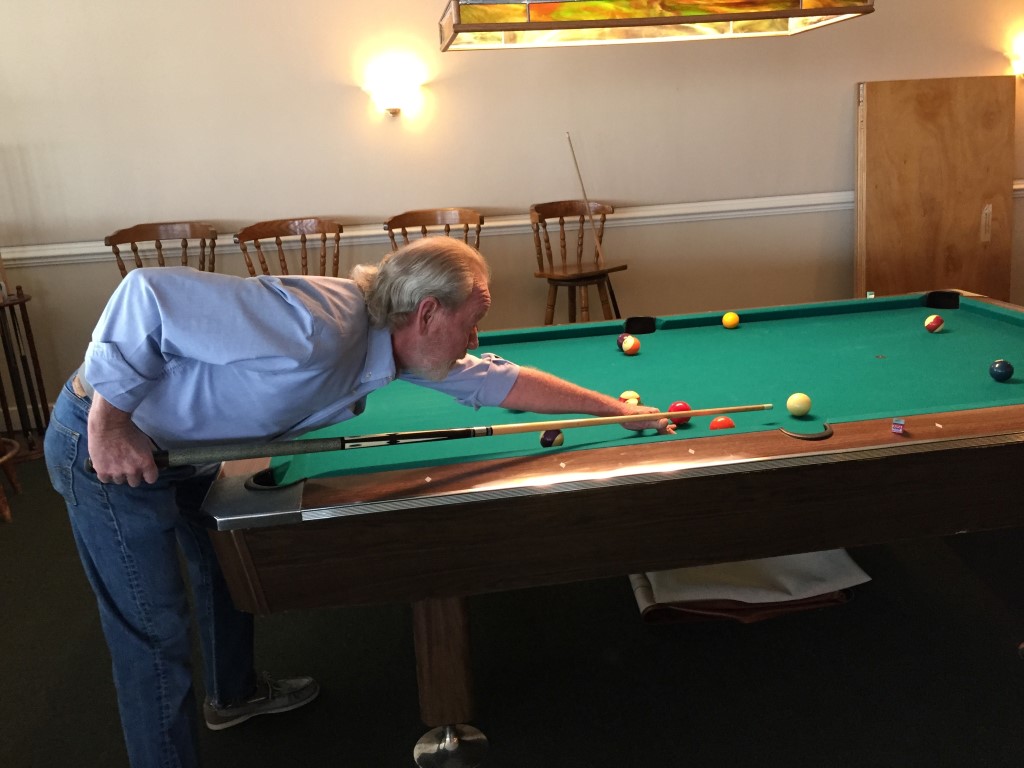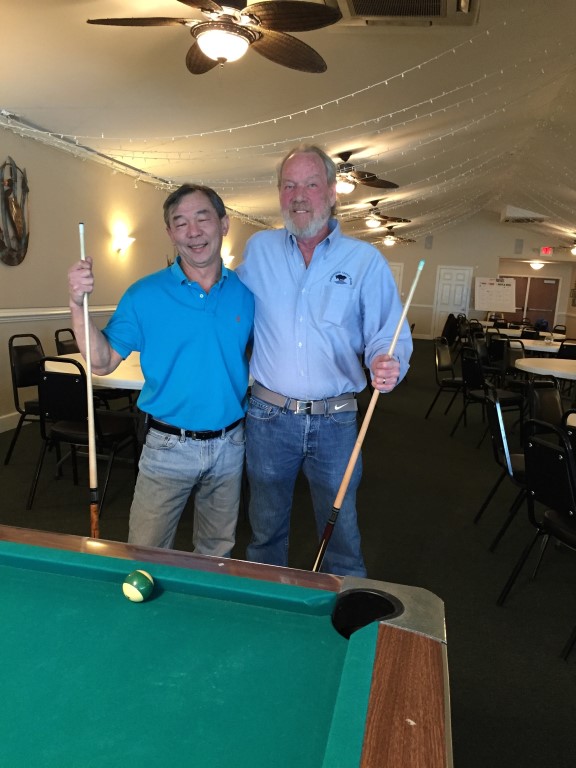 We Gathered to Watch New England Win Super Bowl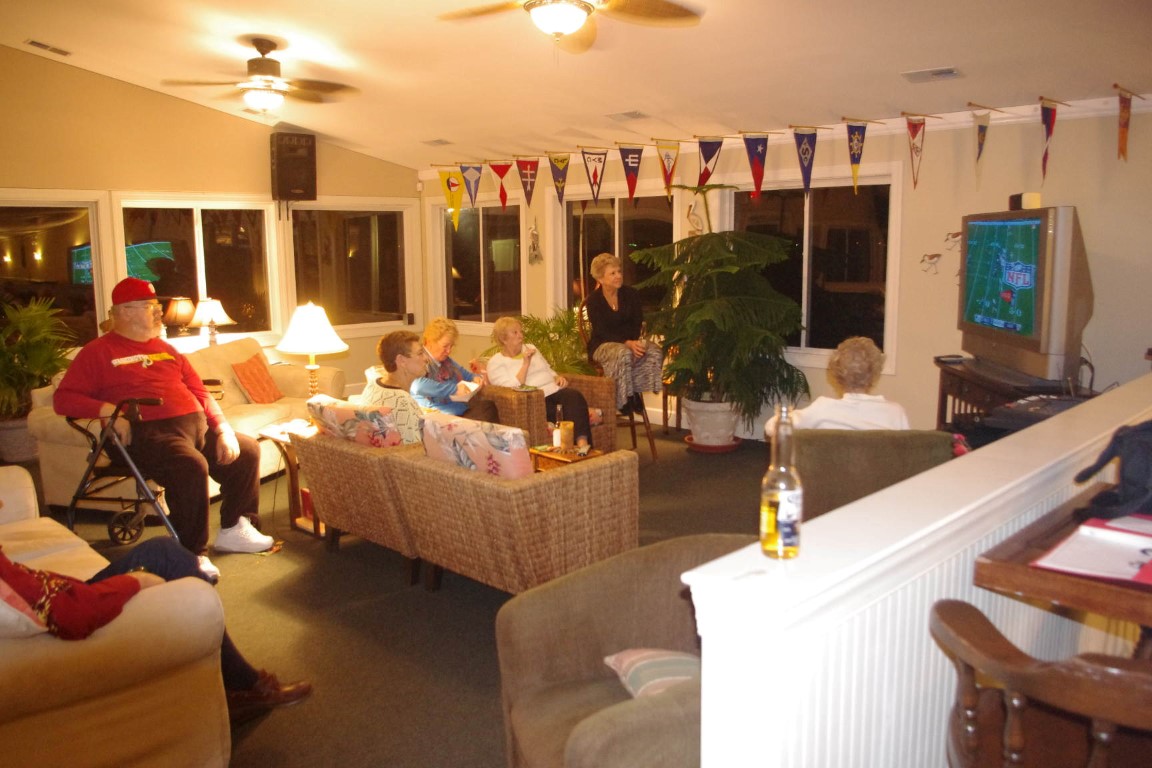 2015 Chili Cook Off
Linda Hartmann Wins BEEF and Trudy Quinto Wins Non-BEEF and Peoples Choice!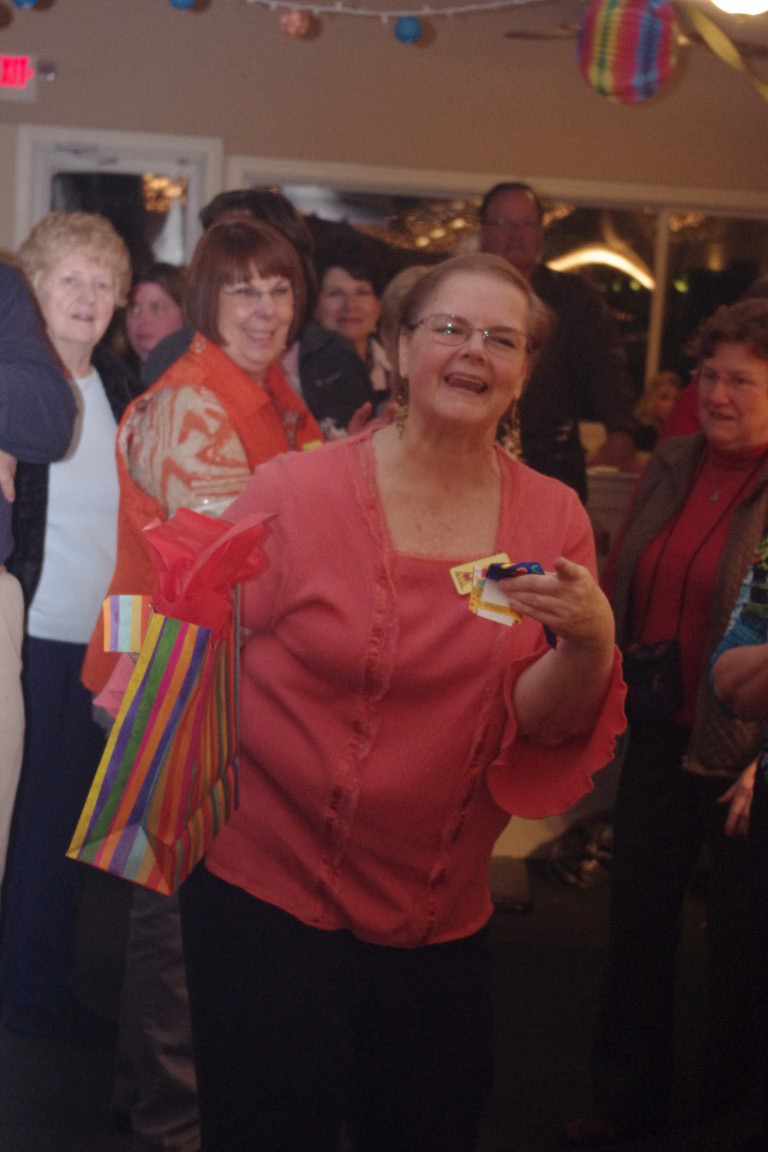 Linda accepts her prize as winner of the BEEF Class at the 10th Annual Chili Cook Off. 
Cindy Wisniewski took honors for the best decorated booth.  Congratulations Linda, Trudy, and Cindy!
New Club Historian
Trish Apelt, has stepped forward to accept the role of Club Historian.  Trish will continue the tradition of the Club Scrapbooks.  Please send all PYC photos to ed.roberts@verizon.net who will forward these to Trish immediately. Thanks Trish!
Messick Road Clean-up
Gary Myers has taken on the job of coordinating the Messick Road Clean-up.  His first event was on Saturday, January 17 when he was assisted by Chip Petre and Winn Granger.  Thanks Gary!
Old Point Comfort Yacht Club- Winter Training Program
The Old Point Comfort Yacht Club offers an excellent series of classes each Saturday during the cold winter months. Click on the following link for details of this year's classes.  For more information, contact Ed Roberts.
A Chili Night in MargaritaVille!!! 
Click here for details about the 2015 Chili Cook Off 
2015 Chili Cook Off Chefs
                Mike and Angie Armentrout                     
Jim Bales 
Terri Fredericksen 
Mike Greenwoo 
Gary Myers Cool
Michael/Tom Stephens 
Virginia Roberts
Linda Hartman
Ronda McLean 
Cindy Wisniewski
Trudy Quinto 
Maria Wells 
Hope Stewart
  
  
Casino Night March 7,2015
Click here to see the event flyer.
~~~
HAPPY NEW YEAR-2015 
\