Nostalgia Anyone?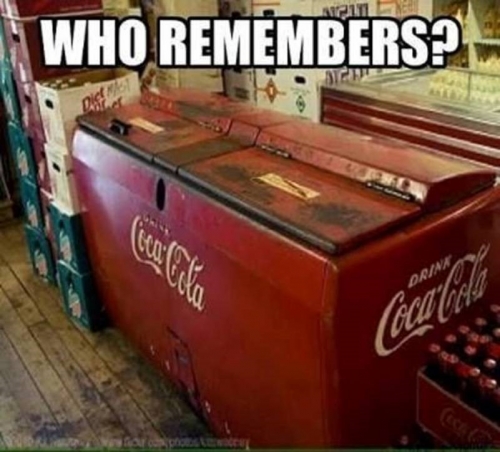 Click here for some photos from the 50's and 60's that may spawn some good memories.
The Holulea Returns Home to Hawaii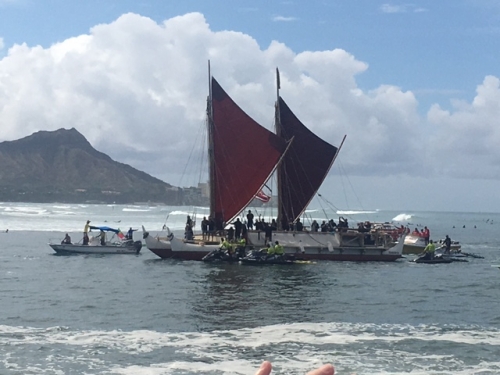 ~~~
2017 Wine and Cheese Party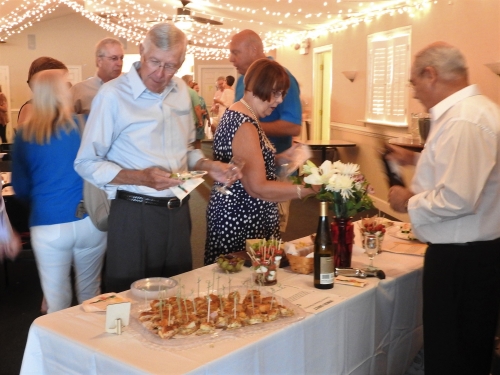 The 2017 Wine and Cheese party held on Saturday, June 10. The committee (sans photographer Bob Townsend) pictured below, out did themselves with decorations and the selection of fine wines, cheeses, and hor d`oeuvres .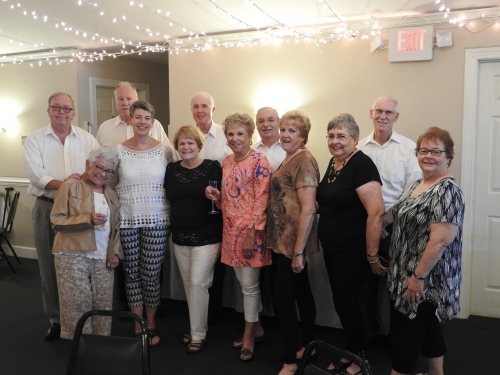 ~~~
Memorial Day 2017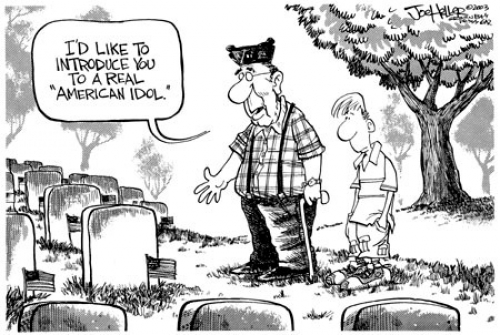 Click here for additional illustrations of this meaningful day
PYC Veterans Honor Roll
The Veteran's Honor Roll is now a permanent page of the PYC Website.
Please Click Here or select from the Article Menu.
~~~
Blessing of the Fleet
The annual Blessing of the Fleet was held Sunday, May 21, at 1:00 pm.  Dr. Michael Condrey, of Kirkwood Presbyterian Church in Yorktown led the club in prayer for the upcoming boating season.  Approximately 50 members attended to enjoy the fellowship and lunch of hamburgers, potato salad and baked beans.
Thanks to our Fleet Captain, Kathy Meyers and all the others who helped to organize and produce this meaningful event. 
 ~~~ 
A Rainy Night In Poquoson
The weather was miserable Friday evening but we had a nice crowd and it was warm and dry inside PYC Friday before Mother's Day. Given the weather and traffic, Frank and Shawn were not too late with the dinner.
Our dessert was graced by beautiful long-stemmed roses and marvelous cakes to celebrate Mothers Day.  The roses were a GIFT from our wonderful chef, Frank Coffey.  Frank always makes our Friday Night meals special, but this made the evening a  truly special night.  How lucky we are to have him in our PYC Family. (Thanks David for getting this word out).
2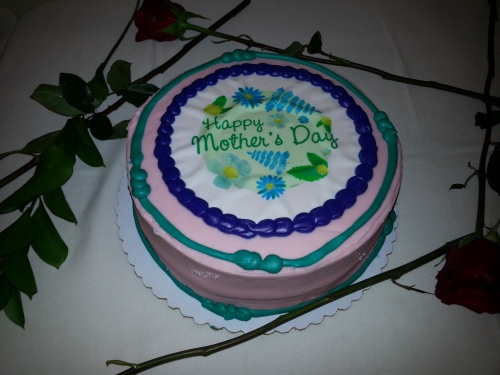 3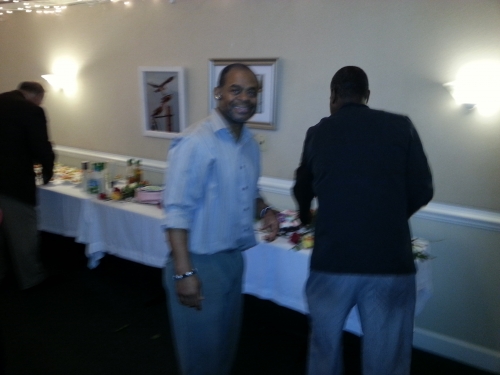 4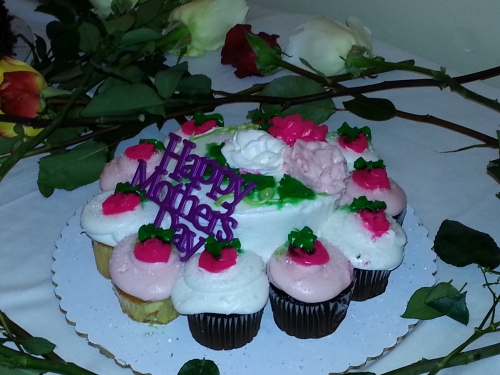 The duce does not win 50/50 so the pot lives on.
Help is still needed with a couple of member cooked meals. Look over the "board" and sign up. No one is clamoring to do the "member served meal" on July 21, either.
Folks, member help with the meals is one of the ways we keep our dues affordable. Please do your part. The member prepared meals are one of our greatest sources of revenue.
The Blessing of the Fleet is next Sunday with good weather currently in the forecast.
~~~
Cinco de Mayo
The annual Cinco de Mayo Party was a blast Friday May 5! The highlight of the evening,  at least in this writer's opinion, was the extraordinary batch of Margaritas prepared by Nick and Linda Paul. Knock your socks off is what I mean!  These were sold out at  least 30 minutes before dinner. Frank and Shawn prepared a huge taco salad with a bar for the members to add the trimmings.  Following dinner, Brewer Eddy conducted a trivia quiz that was like a Mexican college entrance exam.  Roy Schenck won a bottle of "Cheap Tequila" (actually some pretty good stuff--but it lacked the requisite worm to qualify as really good tequila). After much technical difficulty, the traditional pinata was burst. Click here for more photos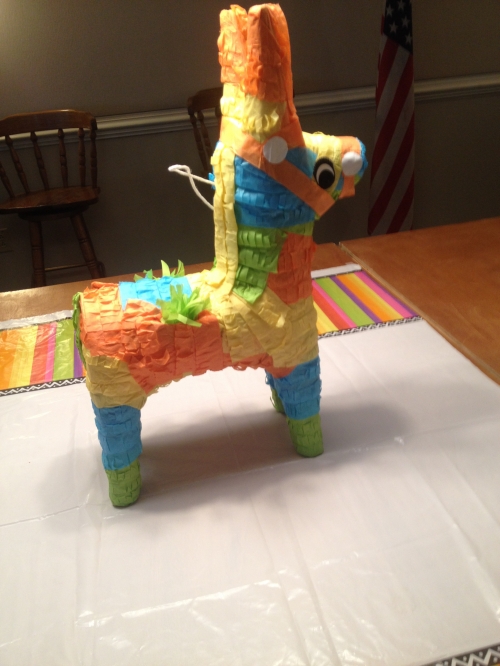 ~~~
Steak Night à la Joe
Joe Discenza chaired another sell-out with the 2017 version of Steak Night. The steaks and preparation were excellent! Entertainment was "Frank Sings Frank" for the 4th straight year.  Everyone enjoyed a great evening. Thanks to Joe, Sally, and all the others who pitched in to create a remarkable event.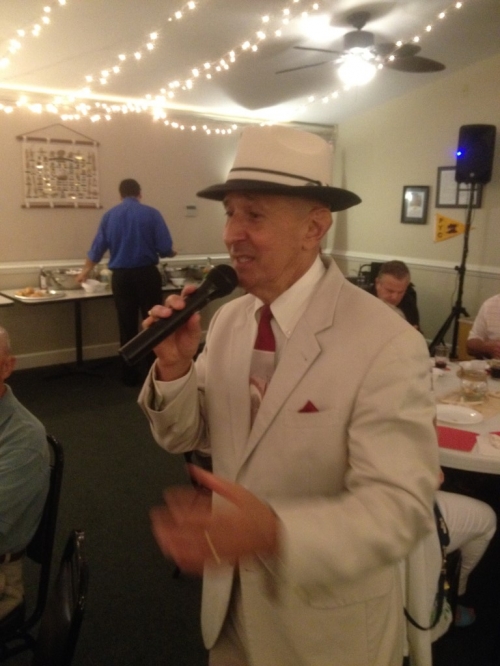 stock photo
Frank Cubillo, the  "Frank" in "Frank Sings Frank", asked that we post his summer entertainment schedule. Click here.
 ~~~
GOLF Tournament
We need some photos!
A bunch of members worked really hard to make the Golf Tournament a memorable event this year. Carol Wood, made a huge contribution before her injury and stayed with it as much as possible during her recovery. Al provided the following information that clearly illustrates the team effort, so typical of PYC:
Sharon kept track of sponsors and players and helped to collect money on Friday nights. She maintained the records regarding status of payments (tournament fee and sponsor fee). She was the sole record keeper while Carol was in the hospital and the rehab facility and assisted when Carol was home by continuing to keep track of players, sponsors and money received. Although she was not originally on the committee, she played a key and time consuming role. (I am sure that Mike helped Sharon to some  extent)
 Frank Krieger (also not originally on the committee) secured Susan Eacho (State Farm Ins) as the lunch sponsor. He also purchased the gift certificates from Surf's- Up on behalf of the club for prizes.
 Bernie Gore and George Nellos placed the hole sponsor signs on the golf course before the tournament started and retrieved them when everyone finished.
 Penny Valentine and Connie Sledd manned the tournament sign-in table. They checked in players and collected money, if needed.
 Mike Greenwood helped me with reviewing the score cards and determining the winners.
 Carol Wood started the ball rolling before her accident. She conducted the initial committee meeting and had the initial contact with the Hamptons Golf Course and the restaurant at the course (Anniebell's) where the players had lunch. She prepared the brochure, dinner tickets and drink tickets. She also followed –up with potential players and hole sponsors, maintained the player and sponsor lists with Sharon, and generally cntinued to play a major role after she got home.
 Also, Terri Fredrickson planned and organized the "Golf" card game at the club for those who wanted to participate in an activity , but didn't play golf.
 I didn't have any involvement with the group that prepared the dinner at the club. I think Carol Nozynski was in charge of those arrangements.
 Winners, 18-hole players:
 Fight 1 , first place team: Buddy Green, Crosby Forrest, Jim Wampler, and Steve Jackson
Flight 2, first place team: Homer Morgan, Wayne Gaines, Daniel Morgan, and Joe Burton
Winners, 9-hole players:
Carol Mitchell, Debbie Schneider, Mona Mozansky, and Terri Fredrickson
Closest to the pin winners:
Men: Jim Bales
Women: Debbie Mann
~~~ 
BOINC
What a strange name!  BOINC stands for Berkley Open Infrastructure for Network Computing.  It provides an easy way for any of us with computers to participate actively in ongoing current research. We simply install the BOINC software on our computers, select the program or programs we want to support, and BOINC does the rest.  You don't even know its is there unless you look!
Most of the time your computer just sits idle, spinning its wheels, so to say. BOINC grabs those unused computer cycles and puts them to work number crunching scientific data for some very interesting projects. These range from searching for radio signals from far out in the universe to earthquake prediction analysis. For more information, Google "BOINC."
 ~~~
St. Patrick's Day Party
It was a party with the traditional corned beef and cabbage, green beer, and everyone Irish for a day. Someone tried to put a green scarf  on the club kitty but Kitty was too quick and didn't go along with it (Did that really happen or did someone have too much fun and green beer?). Click here for more photos.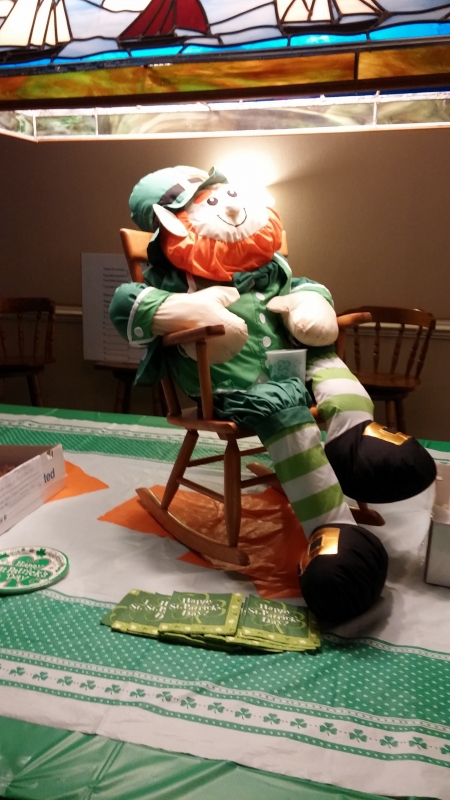 ~~~
Please Share Your Photos and YOUR THOUGHTS
The website is much more interesting when we have photos.  Please e-mail some to ed.roberts@verizon.net
Click on "Submit an Article" at at the lower right to share your thoughts in the Member Opinion column.
I will buy you a drink when your article is published by April 1,2017 !
~~~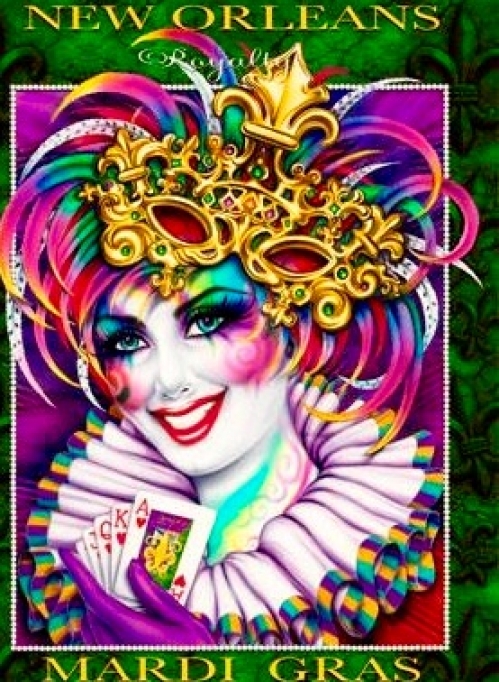 Photo by Connie Sledd          
Friday, February 26 was Mardi Gras at Poquoson Yacht Club. From the moment one entered the club there was the ambiance of Ole 'Orleans--from the mask adorned bottles of wine on each table to the beautiful gala posters on the walls--it was a festive occasion. Frank and Shawn prepared one of the best shrimp creole dishes we've ever served.  Clearly, the committee went all out this year!  Andrea Hagner closed the festivities with a Mardi Gras oriented game of trivia. Click here for more photos
~~~
SMILE! Show us your TEETH!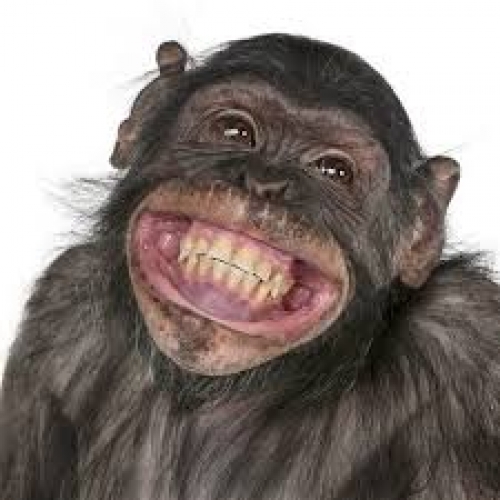 Members! Please check your photos.  If you want yours updated or if you do not have a photo in the database, please email Ed Roberts a photo you would like to have displayed with your information (you can change it yourself by clicking on "Change Personal Photo").
~~~
2017 Chili Cookoff
The competition was fierce, and the tension palpable as 14 of the nation's best chili chefs squared off at Poquoson Yacht Club for the annual cut-throat chili cookoff. When all was done, three professional judges were unable to reach a decision (I still can't figure that out), and a coin toss was required to determine the winner.  Mike Armentrout got honorable mention with his "no name chili."  Shirley Meyers and Gay Geiger flipped a coin to determine first and second place with Gay taking the top spot. 
Terri Fredrickson was a shoo-in to win the best decorations award for her booth lavishly decorated in honor of President Trump.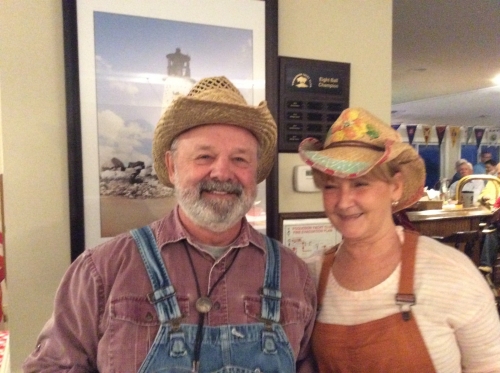 And last but certainly not least, Bob Craig and Debbie Schneider received the Peoples Choice Award for the best chili,  a concoction of prairie-fed buffalo meat, corn-fed pork and many secret barnyard ingredients.
Irrespective of much pre-judgement banter, 'Double-Trouble' will have to try again next year!  
This humble correspondent is reminded of one of Ricky Nelson's later songs, Garden Party-- "...you can't please everyone, you gotta please yourself"!
Click here for more photos courtesy of Earleen Corn, Fred and Pat Kimsey
~~~ 
PYC Dined out at the Corner Bistro in Poquoson
Wednesday, January 18
Over 20 of our members enjoyed a fine meal at the Corner Bistro in Poquoson Wednesday evening. The Dine Out events are held each month.  If you have not tried it, sign up in February. Fun, fellowship, good food and drink--that's what it is all about!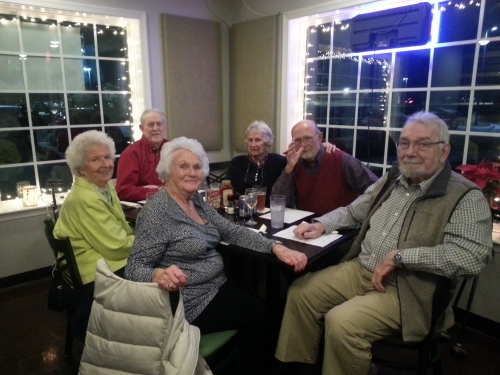 Kiwanis Boating Fishing and Nautical Arts Flea Market 
Fred Kimsey is chairing this fun event for the 4th year. Don't miss it!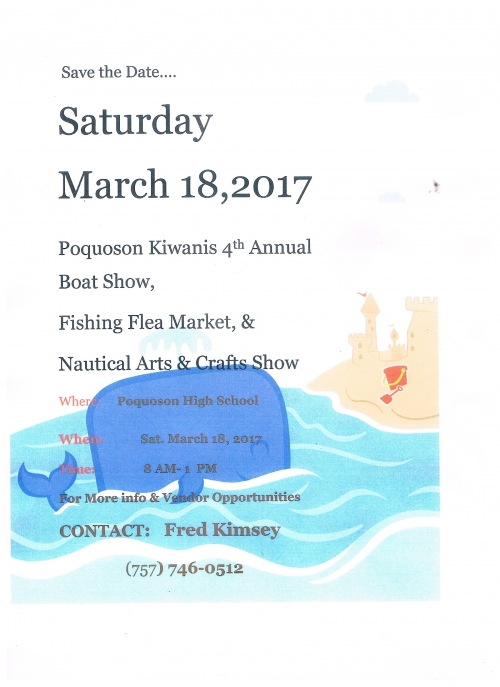 ~~~
Patricia Apelt Publishes Her Latest Book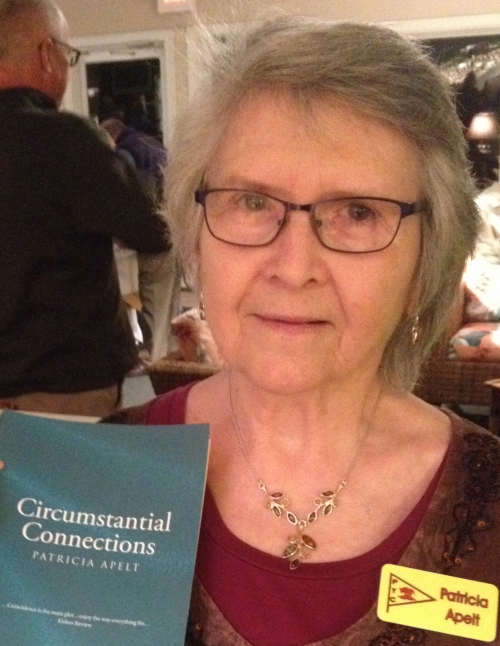 Patrica Apelt has just released her latest book, Circumstantial Connections, available in soft cover or as an e-book from Amazon and Barnes and Nobel.  Patricia has a number of books on hand that she will sign and hand to you personally.  
Congratulations, Patricia! We are proud of our latest author!
---
~~~ 
We Need Your Photographs
Folks, I hate to start off the new year begging (or complaining if you will), but I need your help if we are going to have a photographic record of what is happening at Poquoson Yacht Club.  Please e-mail your photographs to me, ed.roberts@verizon.net
Also, those of you who are gifted writers, I'd love to get articles from you to include on the website. You don't even need to be a gifted writer or know how to spell! Just let us know what is on your mind!
---
~~~
A Message from Our Commodore, Mike Stephens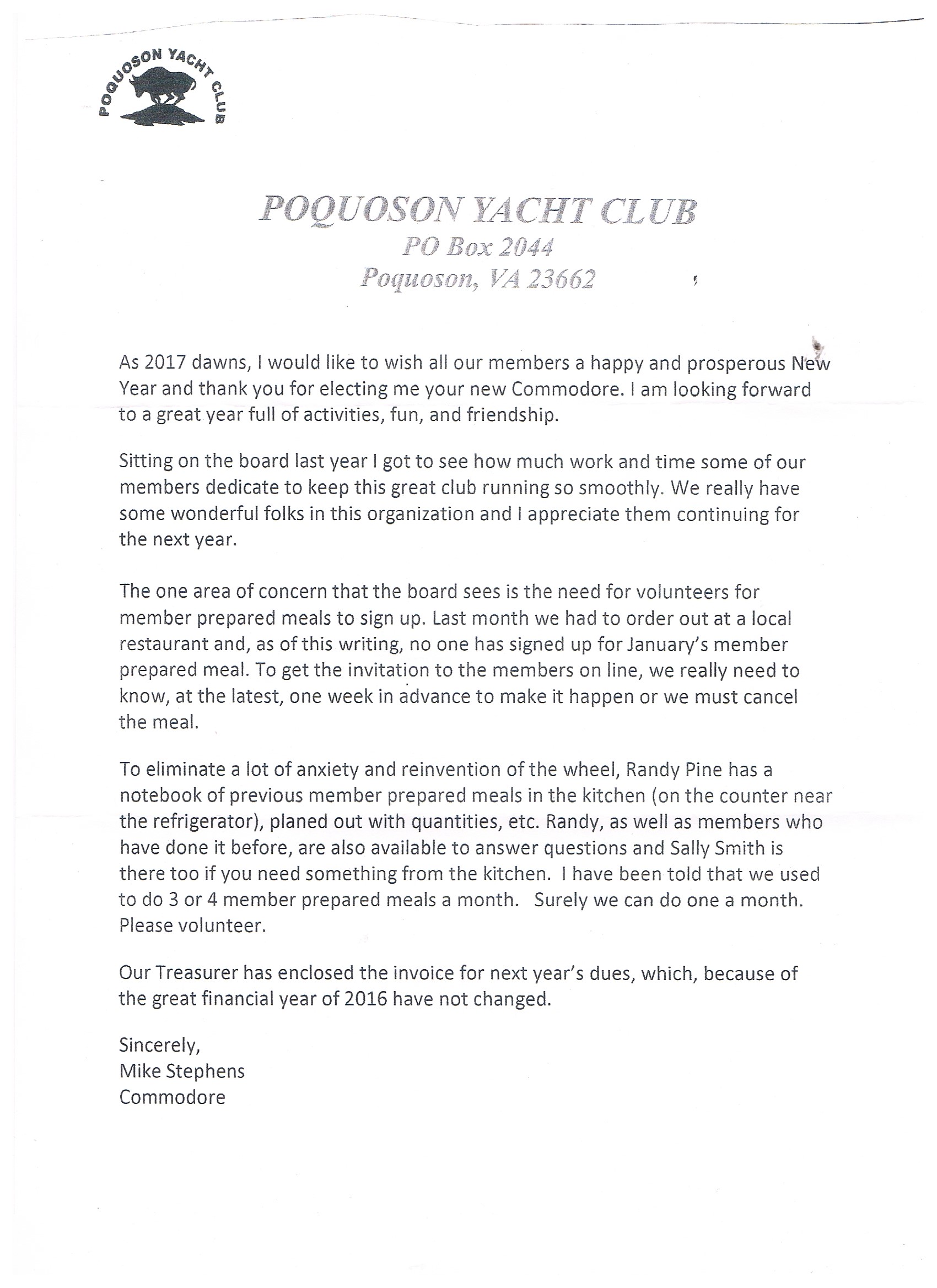 ~~~
---
Happy New Year Poquoson Yacht Club!